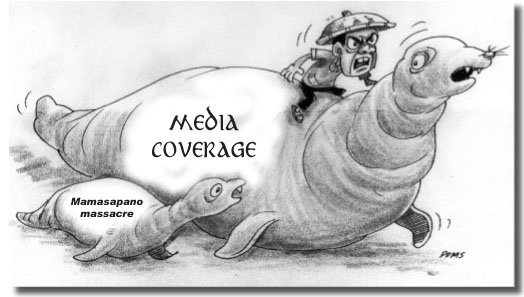 While the Senate hearings may have yielded vital information about the Mamasapano massacre that killed 44 gallant Special Action Force of the Philippine National Police, the almost detailed media coverage has effectively provided rebels reason to celebrate. They now see the seeming disarray among our defense forces in confronting enemies of state. They also now see the distrust of one defense establishment against the others like the revelation of the police hierarchy frankly expressing their distrust of our Philippine army, the reason why they violated the instructions from no less than their Commander- in- Chief to establish links and coordination with the Philippine army before they got inside unfriendly forces in enemy territory that resulted in the massacre of our PNP' Special Action Force whose primarily objective was only to arrest two international terrorists.
And many other ugly revelations were unnecessarily revealed like suspended PNP Chief General Alan Purisima being still actively involved in the implementation of the plan in spite of his having suspended because of corruption at the time the mission was implemented.
There should be an in-depth study that should delineate what aspect of military operations that the public may know and those that will purely be discussed in executive sessions with solely trusted officials to participate in future session.
Another strategy which is to be considered is why should there be separate hearings with one done by senators and the other by congressmen. They were asking similar questions. It was a waste of time and resources. A joint hearing could still have generated the same findings.