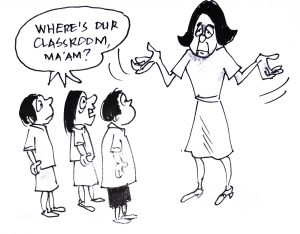 As the face-to-face classes go into full swing, the old nagging problems that had been hounding the Department of Education (DepEd) return, one of which being the lack of classrooms that could fully accommodate the swelling number of students every year.
During the pandemic's peak, in-person classes were avoided to prevent the virus's spread on campuses and protect the students from likely contagion. And so, online classes were resorted to using gadgets such as laptops, cell phones, etc. Aside from these, modules were used, particularly in the lower grades.
But after all these things, in the government's efforts to kind of graduate from the paralyzing effects of the pandemic, in-person classes are finally resumed. But then again, the old problems likewise came back. Problems such as a shortage of teachers are there. There is also this lack of quality textbooks that students can use in the classroom. But these can easily be remedied. The most paralyzing of all is the shortage of rooms for the conduct of classes.
According to the 2019 National School Building Inventory, DepEd is short of 167,901 classrooms nationwide, requiring around Php 420 billion budget. Accordingly, this is the top issue that DepEd should address. The rest can follow or can wait, depending on which one DepEd would prioritize next.
Nowadays when the rain has become frequent, it would be more difficult for schools with classroom shortages to manage. Classes cannot be held under the trees as rainwater will soak everyone wet. It could get the students sick and damage their things. Indeed, this shortage should be addressed soon.