BAYBAY CITY– A dolphin was stranded in the waters of Barangay Kilim, this city, on Saturday afternoon.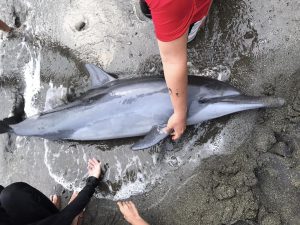 The mammal, measuring 1.65 meters in length and about 80 kilograms, however, was declared dead while it was being transported to the Visayas State University (VSU) for examination.
Angeli Vidal, a staff of the coastal resources management office staff, said that the dolphin was discovered by village residents.
The dolphin, she said, was stranded due to huge waves and cannot swim back into the deep.
The dolphin was brought to the VSU Marine laboratory for rehab but was declared dead on arrival at about 6 pm, Vidal added.
A necropsy of the dead dolphin is scheduled to be done this week to find the cause of its death before it will be buried.
(ROBERT DEJON)