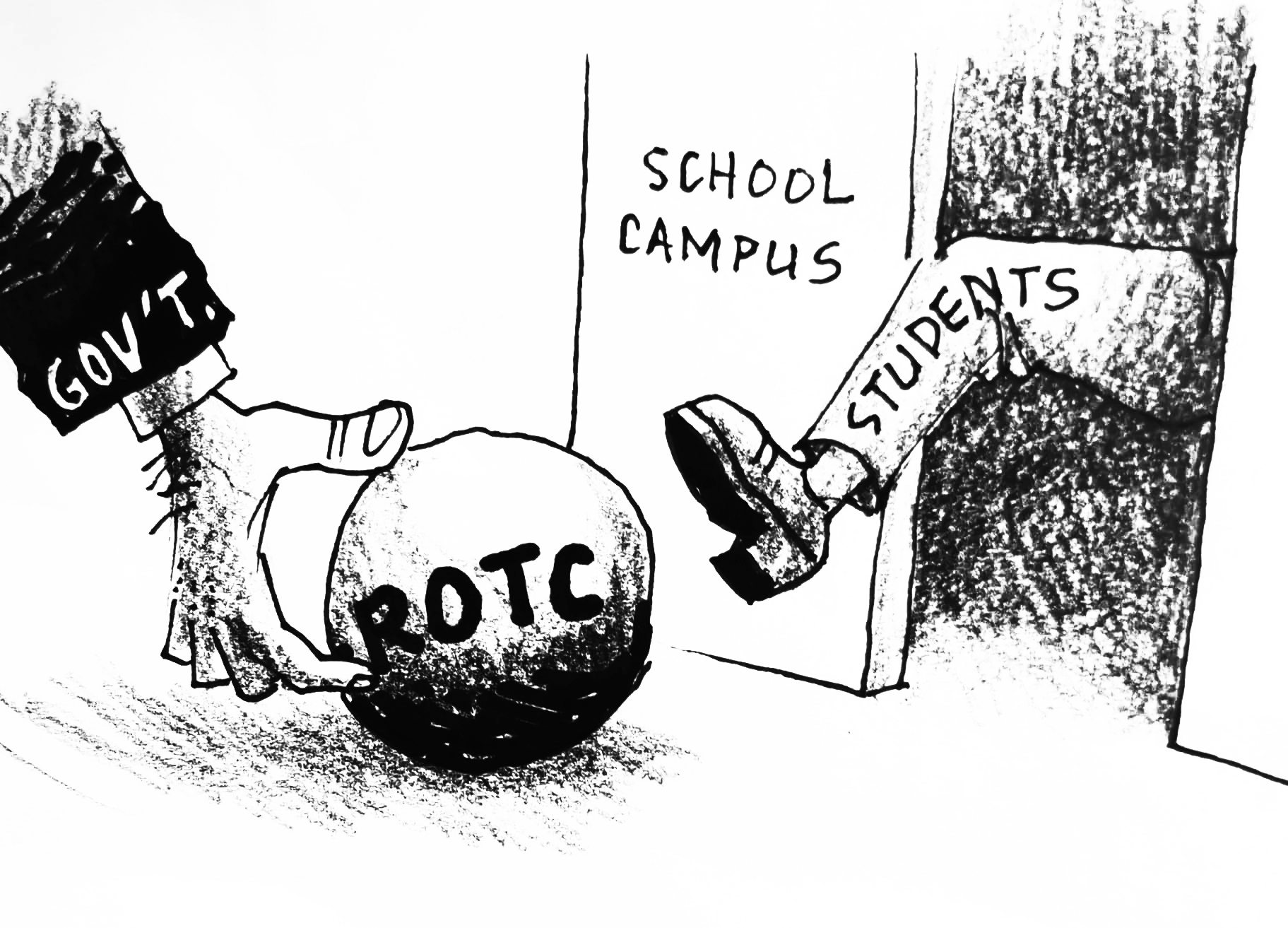 It can be recalled that, in 2001, thousands of students had campaigned to abolish the Reserve Officers Training Corps (ROTC) program after the unfortunate death of a UST ROTC member Mark Welson Chua, who was found dead after exposing the corruption inside the ROTC program. Somehow, they triumphed in making ROTC an optional program.
Under the Duterte administration, however, the restoration of mandatory ROTC starting Academic Year 2018-2019 via senior high school was pushed, requiring all senior high school students to take ROTC for the sake of "promoting discipline and nationalism" among the youth. Rep. Rodolfo Biazon, son of a former military chief of staff, has filed House Bill No. 1260, which also proposes a mandatory ROTC. Deputy Speaker and Batangas Rep. Raneo Abu filed House Bill No. 5113 which sought to "resuscitate" the ROTC which he believes will help instill patriotism among the youth.
In a rare show of unity from the executive and legislative branches, several senators and congressmen have endorsed the restoration of the ROTC. Various bills were filed since President Duterte declared in his first year in office that he wanted the ROTC to become mandatory again. In his Citizen Service Act of 2017 (Senate Bill No. 1417), Senator Richard Gordon agreed that the ROTC will foster nationalism among the youth and encourage their participation in public civic affairs. Senator Sherwin Gatchalian in his Senate Bill No. 200 noted that many countries in the world have a mandatory ROTC for their male citizens.
Not surprisingly, progressive groups and leftist organizations have fiercely protested against this ROTC restoration. They alleged that the Duterte regime merely wanted to produce students who would not be critical and brave enough to question his policies and assert the democratic rights of the people. According to them, this was his attempt to pacify the youth sector, which has been active in opposing his anti-people policies and demanding concrete steps to address poverty, landlessness, contractualization, and access to education. The regime merely sought to produce blind followers who would pledge allegiance to his dictatorship and tyrannical rule over the country.
But this was just also their way of painting ROTC so badly. They do not cite the ill-effects of the program's absence in schools for decades now—recruitment of students to organizations allied with CPP-NPA-NDF became rampant; furtherance of leftist ideas had been causing school children to hate their government; in some schools, selected students have been recruited to join the NPAs in fighting government forces, and many more. These, among others, had prompted the government and many lawmakers to restore ROTC on school campuses. But we hold the government responsible for closely monitoring and penalizing the abuses that might proliferate again within this organization.