Now on its 121st year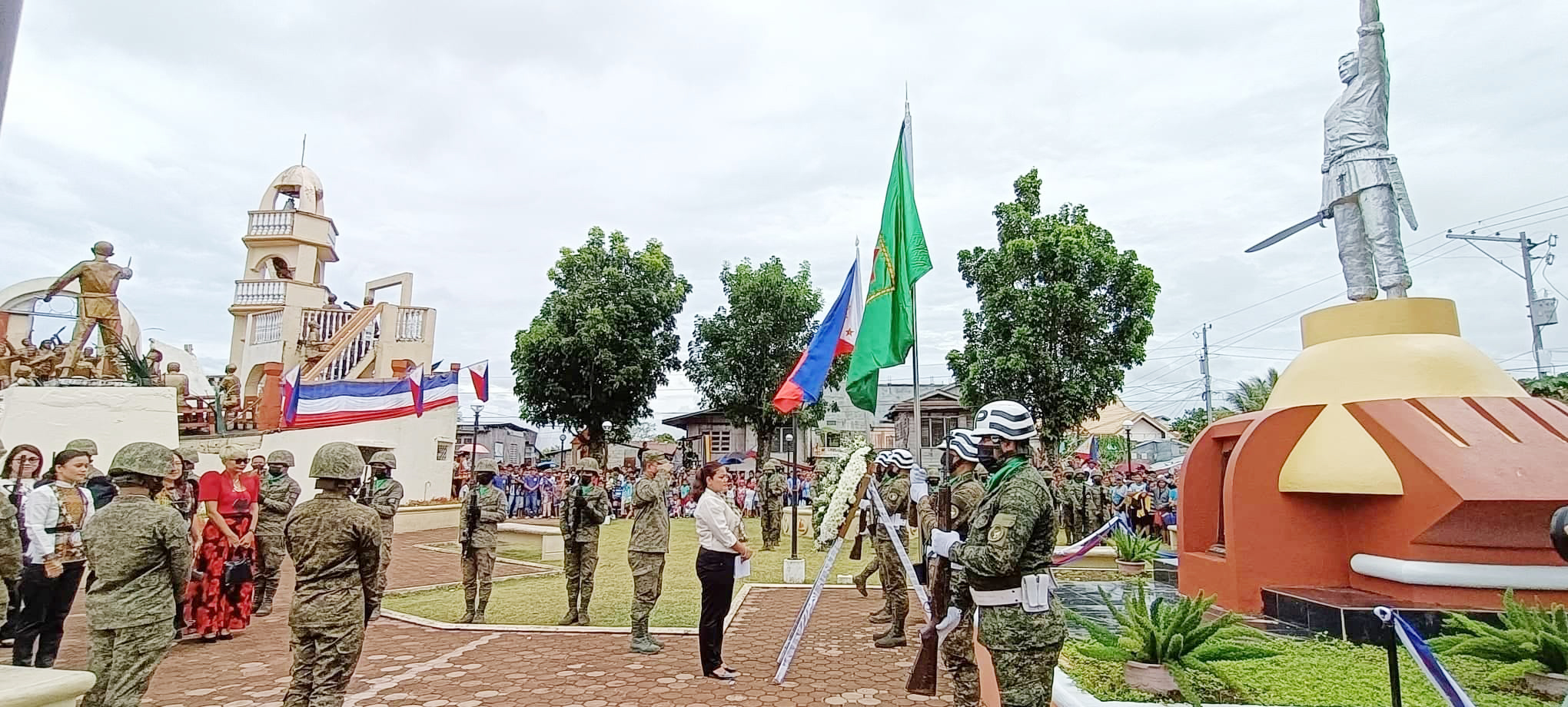 BALANGIGA, Eastern Samar- A very low-key event marked the 121st year commemorative program of the Balangiga Encounter was held on Wednesday (Sept. 28) with town Mayor Dana Flynch de Lira leading the historic occasion.
The town mayor said that they are planning some ways to market the town, especially among tourists, with the return now of the 'Balangiga Bells.'
"We are already known for our bells. It's just a matter of marketing, kasi what's happening right is the bells are not that much appreciated, we are reaping the benefit out of it. So if we can only make a little improvement siguro to help recover economically and financially," Mayor de Lira said during the simple anniversary.
She added that she will be talking with tourism officials in the region to help them prepare tourism plans and programs to market not only the bells of Balangiga but also other tourist destinations of the municipality that are waiting to be developed and promoted.
To recall, after many campaigns by the national government, Church, and some private sector, the bells were returned by the United States on December 11, 2018.
The three historic bells were eventually installed at the Saint Lawrence the Martyr Church on Dec.15, 2018 with former President Rodrigo Duterte witnessing the event.
Vice Governor Maricar Goteesan, representing Gov. Ben Evardone, said just like 121 years ago, the people of Balangiga continue to fight and this time it includes poverty, social injustice, and insurgency.
"But we are no longer using bolo or offering our lives instead what we need to do is to keep our beloved Eastern Samar as a zone of peace. Let us bravely face the trials of today because it is us who can save ourselves from adversity," Goteesan said, reading the message of Gov. Evardone.
For her part, Tourism Secretary Maria Esperanza Christina Frasco urged the people of Balangiga to make the Sept.28,1901 as an inspiration as the country is slowly recovering from the pandemic caused by coronavirus disease(COVID-19) which also affected the tourism industry.
"Our goal in the industry is still in the early stage of planning and implementation, yet we are confident that we can achieve this with the support of people like you here in Balangiga who are more than willing to work hand-in-hand to improve the country's economy," Frasco said in her message read by DOT-8 tourism operations officer Rina Apostol.
The Balangiga Encounter happened on Sept. 28, 1901, when the town residents led by Valeriano Abanador initiated an attack against US soldiers who are part of the Company C of the 9th US Infantry Regiment.
Dubbed as the biggest defeat of foreign troops during the Philippine-American war, villagers who were armed with bolos defeated the American soldiers who are armed with a much sophisticated guns.
The incident however resulted to the death of around 2,500 Filipino men, women, including children when the Americans' launched a retaliatory attack as ordered by Gen. Jacob Smith transforming Samar into a "howling wilderness."
The Americans then took the three Balangiga Bells as war booty that resulted for a more than a century call for the US government to return them back to the country.
(ROEL T. AMAZONA)