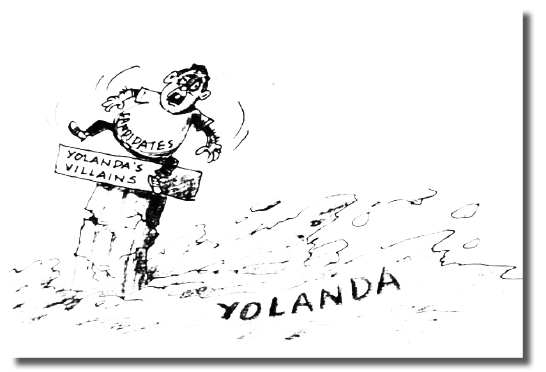 As the strongest typhoon in history to ever hit land, Yolanda(international name: Haiyan) was indeed so strong that its tremendous strength is still manifested in our political landscape.
During its demoralizing and deadly aftermath, when those in power were arrogantly resorting still to politics instead of speedily helping and prioritizing the victims and survivors, the enraged citizenry vowed that, come the succeeding national elections, these reigning political figures who had access to but surprisingly "lost" the millions of dollars poured into the country by international donors would reap the consequences.
True enough, the people fulfilled their promise, punishing these politicos with little or no support at all. In fact, even those good candidates who happened to be merely identified with them likewise reaped that retaliatory gesture, eventually getting what they do not deserve. This they need to realize. Yolanda's survivors whom they subjected to politicking amid their fresh, painful plight may not comprise the majority, but they had won the hearts of millions among the country's citizenry.
It's not that the administration senatorial candidates are the best for having won in the recently-concluded elections. It's just that the opposition line-up was peopled with the huge antagonists during the Yolanda episode. Surely, the electorates know how to gauge them. If they cannot be trusted with the dying, how can they be trusted with the living? This must have been translated into votes.
So tremendous was Haiyan's political impact that even up to now, when its anniversary was just observed, people could not help but mention it in gauging candidates who in one way or another had links to the government's dealings then with the survivors, the victims, and the numerous donations in cash and in kind.