TACLOBAN CITY– Taclobanons showed strength in condemning any form of violence against women and children during the kick-off activity of the 18-day campaign at the Tacloban City Youth Hub.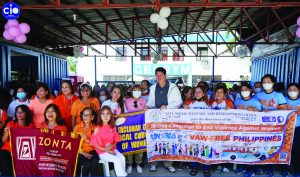 Through Republic Act 10398, November 25 of each year is declared as National Consciousness Day for the elimination of VAWC.
The activity started with a motorcade along the main streets of the city joined by civil society groups and women from various government and private agencies.
Mayor Alfred Romualdez showed his support for the campaign and reaffirms that he is behind this movement and will use government resources to make sure that it will be a success.
He recounted that the LGU once collaborated with Homeland Security in capturing an American pedophile. Romualdez asked the audience to help in eradicating this grave violence of human rights.(TACLOBAN CITY INFORMATION OFFICE)