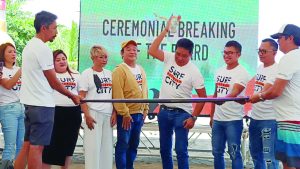 Asks public to practice sanitation
TACLOBAN CITY– The health officials of this city are calling the public to strictly observe cleanliness in their surroundings as dengue fever cases here is increasing.
The increasing number of dengue fever cases is also noticed in the rest of the region as per record from the Department of Health(DOH)with Eastern Visayas has now over 5,600 cases.
Based on the records from the City Health Office (CHO), the city's dengue fever cases since the start of the year until November 19 has now reached to 443.
This number of cases is a 550% increase compared to last year's 56 cases.
Three have been confirmed to have died due to this mosquito-bite disease for this year, the CHO said.
The increase in dengue fever cases in the city could be attributed to the continuous rains experienced by the city for the past days now.
The CHO, aside from conducting fumigation, is also doing some information drive as to how to avoid the disease, visiting schools and barangays.
Across Eastern Visayas, the cases of dengue fever are also seeing an increase compared to last year cases.
The surveillance and epidemiology unit of the DOH in the region reported that as of last week, Eastern Visayas has 5,616 cases.
Last year, the region had only 718 dengue fever cases with zero fatalities. As of this week, the number of deaths has now reached to 15 with the province of Southern Leyte posting the highest number of fatalities at nine.
Health authorities have urged the public to observe sanitation like clearing waterways to destroy breeding places of mosquitoes; use protective clothes; conduct fogging operations if necessary, and seek early medical consultation.
JOEY A. GABIETA/LIZBETH ANN A. ABELLA