Organizers say both genders are equal
BORONGAN CITY– Both women and men joining in this year's national surfing competition hosted by this city will receive equal prize money.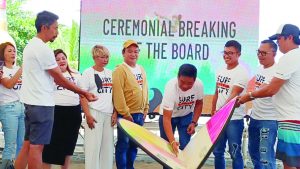 In doing so, the organizers is making an statement that even in sports supposedly male-dominated, women players are also expected to excel equally.
The organizers of the 3rd leg of the Philippine National Surfing Competition is offering P1.1 million prizes in both women and men categories.
Surf in the City chairperson, Rupert Ambil explained that providing equal cash prizes for both male and female competitors is a statement that the city government believes in the ability and talent of both genders and that they respect equal rights, not only of female and male but even members of the LGBTQ.
"Kami naman, we're not competing in the waters, we are competing against other LGUs. So how do we compete with them, so we compete by hosting it better, by providing the right prize money, and also the value of Estehanon represent, na kung hindi mo kayang sabihin sa anak mong babae bakit mas mataas ang prize money ng lalake compare sa iyo, so mali yun fundamentally," he said.
"How can you make an excuse na mas malaki ang prize money? So tayo dito, naniniwala tayo sa strength ng both gender, it is really a statement for all of us, not only for the surfing community but also as representative of Borongan, Eastern Samar, these are the values that we represent, gender equality, LGBTQ rights," Ambil added.
This move from the city government of Borongan to provide equal cash prizes to both genders is lauded by the officials of the United Philippine Surfing Association (UPSA) that hosts the country's premier professional surfing championship tournaments.
Philippine National Surfing Team head coach John Carby said that providing equality between male and female surfers is within the current roadmap of UPSA and they are lauding the city government of Borongan for leading voluntarily.
Carby said that equality between genders in sports is the hotly debated topic almost around the world at the moment which is why UPSA made a requirement that all categories in surfing competition sanction by their organization must have counterpart category in both sexes.
Being a male-dominated sports, Carby added that UPSA had started to provide better opportunity to female by including more women courses in their judging program.
Giving the same prizes to both female and male category is also included in their roadmap which they are glad that Borongan is now doing it.
"We applauded the initiative and looking forward to put it in our practices for other regions, not to just copy. We hope to copy on their own but eventually we will also be imposing the equal opportunity, as an UPSA it's a roadmap so to see it done in a voluntary level in a particular region, we sit down, we clap them, we raise our hats to the initiatives," Carby said.
Meanwhile, City Mayor Jose Ivan Dayan Agda said that the main goal of his administration now is to institutionalize this sporting event that has put the city and the province of Eastern Samar in the list of among surfing enthusiasts as place to go to.
Borongan has been hosting the national surfing competition for three years now with goal of producing local surf champions.
Agda added that while at present, budget for the sporting competition is shouldered by the city and the provincial governments, they are hoping that in the future hosting of the event private sector would come in to sponsor the competition.
Agda added that even they spend a total of more than P2 million for hosting the event including the prizes, they are expecting a bigger return of investment from the awareness that the sports competition can create from the surfing community and would be surfers, to possible investors who would invest in tourism related businesses that will eventually generate jobs to local and income for the city.
Around 250 surfers from all over the country are now in Borongan City for the 3rd leg of the Philippine National Surfing Championship.
These surfers are from the provinces of Siargao, La Union, Ilocos Sur, Cebu, Eastern Samar, Aurora, Sorsogon, Catanduanes, Zambales, Camarines Norte, Leyte, and Northern Samar.
(ROEL T. AMAZONA)