TACLOBAN CITY – The Department of Public Works and Highways (DPWH), Leyte Second District Engineering Office (L2DEO), is currently implementing a road widening and drainage project along the Jaro-Dagami-Burauen-La Paz road section in the town of Dagami.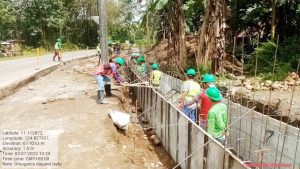 According to District Engineer Leo Edward Oppura, Dagami road is a vital tertiary road that lies between Jaro and Burauen road network.
"This road network serves as an alternate route instead of the major highways, so it is necessary to expand the road to enhance accessibility for the traveling public. While the purpose of the drainage canal is to serve as a waterway for rainwater from the surface of the road," he said.
The project's funding is sourced from the department's allocation for this fiscal year in the amount of P29.36 million.
It involves the widening of the road from 2-lane to 4-lane in Barangay Plaridel, measuring 400 linear meters in 3.35-meter width on both sides of the existing pavement, and the construction of drainage structures that will be placed in the villages of Plaridel and Rizal, both in Dagami town.
The project, which started on March 6 of this year, is expected to be completed on October 20.
(LIZBETH ANN A. ABELLA)