NSSDEO, Brgy. Burabud, Laoang, Northern Samar- Under the leadership of District Engineer Charlito S. Carlobos, the Department of Public Works and Highways (DPWH) Northern Samar Second District Engineering Office has completed the retrofitting and strengthening works of Pambujan bridge to make it more resistant to flooding occurrences of the massive Pambujan River.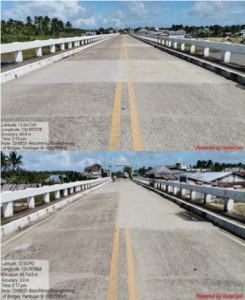 The Pambujan Bridge is a permanent bridge structure having 190.85 meters length situated along the Catarman-Laoang Road in Pambujan, Northern Samar. The project is funded under the General Appropriation Act CY 2022 amounting to P29.4 million.
With contract ID No. 22II0037, the said project was started last March 28, 2022 under contract with CDU Construction, with direct supervision of Miriam O. Engo as Project Engineer.
District Engineer Charlito S. Carlobos said that the bridge retrofitting and strengthening is necessary to ensure that bridges can survive strong currents of water since the area is prone to flooding.
"With the project's completion, the Pambujan Bridge would have better and stable condition, thus, will continue to contribute to the economic development through accessible transportation of goods and services not only of the Municipality of Pambujan but the whole second district of Northern Samar," DE Charlito added.
(RHODORA R. PUJANTE, PIO STAFF)