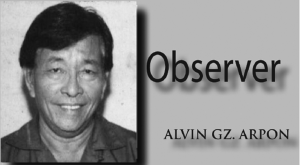 Political winds have started to surge into our consciousness with the open declaration of Vice President Jejomar Binay to run for President in 2016. He is just a heartbeat away from the presidency. But it appears that the heartbeat of the incumbent President remains active and healthy then indeed and rightly so Jojo Binay has to begin the process of drafting a blue print campaign strategy.
It is not easy to debunk Jojo Binay's credential to vie for the highest post of the land. He has the experience in all levels of governance, his integrity still unsullied and he could be a visionary – meaning he has within his fingertips some ideas how to make a difference in leading a nation even now which is on track tangible and impressive achievement under the Presidency of Benigno S. Aquino III.
-oOo-
The reported choice of Senator Jinggoy Estrada as Binay's running mate in the 2016 presidential elections would be quiet a heavy load to carry for the party. The continues erosion of the senator's credibility whenever he opens his mouth relative to his alleged corrupt practice in the "disbursement" of his Priority Development Assistant Fund (PDAF) certainly will remain an ugly smudge into his person during the campaign season especially. In all these months since the time this pork barrel scam that exposed Estrada, he has yet to credibly explain his involvement in this issue. His attempts to destroy the image of whistleblowers Dennis Cunanan and Ruby Tuazon is of bad taste. The "sins" of these whistle blowers is another case that deserve separate hearing. Jinggoy must explain, or deny the accusations hurdled against him with authentic documents to back up his defense. He should do it as soon as possible to give Binay a chance and time to make adjustments in his choice for a running mate – one who can help him in the campaign – Not a baggage.