As RPOC chair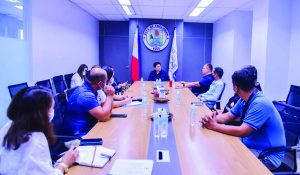 TACLOBAN CITY– Mayor Alfred Romualdez of this city who was just named as the chairman of the Regional Peace and Order Council (RPOC) for Eastern Visayas said that he will 'touch base' with the different officials of the region to get personal information on their respective peace and order situation.
And among the first areas that he intends to visit is the province of Northern Samar where four of the five communist guerrilla fronts are still operating, according to the military in the region.
Romualdez, in an interview Saturday, said that he is with the aim of the national government and security officials to quell the insurgency problem of Eastern Visayas once and for all, saying that it not only hinders the region's peace and order situation and its development but more so among affecting the civilians.
He added that before he will conduct his visits, he will call for a 'summit' with all the stakeholders to revisit some of its current or previous policies in so far as addressing the peace and order situation of the region which also include the problem on illegal drugs.
"We are preparing a report to be given to the national government…and after that, I have to visit to the different provinces and touch base with the different local government units and coordinate with them, especially in areas that need immediate attention and obviously we are looking into that," Romualdez said when asked if he will visit Northern Samar.
"My main concern here are the civilians that are caught on this problem. That is why, we have to address this problem immediately," he added.
Earlier, more than 1,000 soldiers were deployed to Northern Samar province with the aim to end in the province, described by security officials as the 'last bastion' of insurgency in Eastern Visayas.
Romualdez also vowed to coordinate with Congress, particularly the House of Representatives whose Speaker, Leyte Rep. Martin Romualdez, is his cousin to secure needed fundings for projects to remote areas where there are no development-related projects being undertaken.
"We have to focus for a faster and better development on these areas because the people there find it difficult to seek help from our national government due to problem of accessibility," he said.
Asked if he will push for a localized peace talk as RPOC chairman, Romualdez said that he will abide how the national government will take on this.
"Peace talks are good but we have to find out what are the most effective way of doing it. Both parties must agree to certain tasks and come up with good results," he added.
(JOEY A. GABIETA)