Gov. Evardone lambast 'bad practices' of mining on the island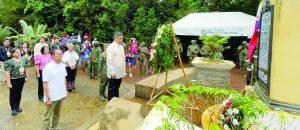 TACLOBAN CITY – Officials of Eastern Samar led by Governor Ben Evardone and Guiuan town Mayor Annaliza Gonzales-Kwan spearheaded the 502nd anniversary of the coming of Portuguese-born Ferdinand Magellan and his crew to Homonhon Island on March 17.
Both leaders acknowledged the important role played by Homonhon in our country's history as it paved the way for its 'reintroduction' to the world.
However, the historic island may lose its reputation due to the mining activities there, Gov. Evardone lamented.
"I do not want the rich history of Homonhon to be erased and eclipsed by bad practices of mining," he said, adding that he is for 'responsible mining' to ensure that Homonhon's rich resources and the island itself will not be affected.
Homonhon is rich in natural minerals like chromite that make it attractive for mining activities. There are no active mining activities on the island, at present unlike in previous years.
For her part, Mayor Gonzales-Kwan called on the parents to continue teaching their children the act of kindness and hospitality shown by their ancestors to the foreign crew.
"That is why I am calling the parents to teach their children the act of kindness and hospitality to let this character lives within us forever," she said.
"We recognize the value of Magellan and his crew but we also recognize our forebears, their kindness, their humanity, their valor, things that we ought to preserve within us today," Gonzales-Kwan added.
Meantime, the chairman of the National Historical Commission of the Philippines (NHCP) Emmanuel Calairo lauded the municipal government of Guiuan and the provincial government for continuing to celebrate the event that took place on March 16,1521.
"Natutuwa po ako at sumasaludo sapagkat ang ating local government unit at provincial government ay narito ngayon kumikilala sa ating makulay na kasaysayan. Kailan po nating magsama-sama at maging united in sharing and fostering our heritage," he said.
The NCHP official added that to remind the present generation of the rich history of their locality and the valor and gallantry of their ancestors, they are now doing an inventory of local heroes from the local level for the present generation to know them and become their source of inspiration.
He asked the provincial government of Eastern Samar to help them in doing the inventory so that this can be collected and shared at the national level. (ROEL T. AMAZONA)