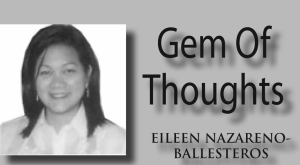 While Tacloban City Vice Mayor Jerry "Sambo" Yaokasin egged on parents to spend quality time with their children and hug and kiss them while they are still very young, Dept. of Education City Division Supervisor Miguel Dumas reminded parents and teachers, who just took their oath as officers of the General Parents-Teachers Association and Homeroom PTA, the challenge, "Leadership is position not action." These messages they expressed during the joint induction of the GPTA, HRPTA and Faculty Club inductions of Sto. Niño SPED Center held at the newly repaired stage of the school on July 31.
Far from the customary stylish and glimmering ambience, the induction ceremonies of the parents-teachers associations in this public elementary school were done in the schoolyard where a covered space, which the community calls mini-gym, used to exist. Instead of having the usual glamour and scents, the officers and their members came in their casual attire if not in office uniform. Sans the city band and dance instructors, the affair went on to the finish. God be praised! It never rained, not a single drop.
If those diminutions have upset a dozen heads, the advantage offset these. The parents and teachers need not spend a lot from their pocket for the traditional acquaintance and induction party because the GPTA solely shouldered the expenses in setting the stage for this important event. There was no need to trouble themselves in going to the party venue precisely because there was no party to speak of. This, nevertheless, was the least to mind in this induction affair. The most important thing was that the invited guests came to take their active part, as they of course graced the occasion.
Thanks to all the organizations that helped SNSC recover fast with new temporary classrooms and other facilities and books that helped the entire school community regain normalcy ahead of other schools. SNSC Principal Delilah De Los Santos expressed once more her gratitude to the foundation led by Bangko Sentral ng PilipinaS Deputy-Governor Diwa Guinigundo, which helped in the repair of the gym stage that was ruined by Supertyphoon Yolanda on November 8 last year, and cut off the steel trusses that were twisted and coiled by the hurricane-like winds of Yolanda. That space which used to be covered is again safe for use.
This cooperation is the very drift of the message of both Vice Mayor Sambo and Education Supervisor Dumas, who was once the school principal of SNSC. SNSC, which VM Sambo jested is a private school that pretends to be a public school, is known not only for yielding graduates who excel in national scholastic and co-curricular competitions and pass qualifying exams for Philippine Science High School, but also for being able to generate the support of the society in general. Being able to generate that synergy is an attribute of true leadership.
Incidentally, inducted into office as GPTA this school-year were Atty. Corazon Montallana, president; Lorna Garnace, vice-president; teacher Glen Bullecer, secretary (2nd term); teacher Jeanon Taboy, assistant secretary; Eileen Ballesteros, (2nd term); Vilma Domus, asst. treasurer; Harold Lacaba, auditor; Wendell Supremo, business manager; and Atty. Sean Samson, PIO. Directors are Edwin Gualberto, Hermel Corda, Segundino Advincula and teachers Esperanza Napari, Juliana Dumas and Cheryl Ann Avila.
This along with the HRPTA sets of officers this school-year are whom Vice Mayor Sambo describe as the post-Yolanda set of officers whom the members of the entire community will never forget. They are the officers who are facing very great challenge towards rebuilding and recovery of the school as a whole, just like this year's set of elected officials of the City of Tacloban which was hardest hit by sty Yolanda.