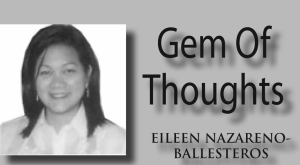 Give Coco Martin ( Rodel Nacianceno in real life) the benefit of the doubt. As his lawyer and camp spokespersons justified, the debonnaire and multi-awarded actor/model was totally naive of the inimical effect of his gesture when he took the romp in the fashion show he participated in recently. Categorically they as well as the company owner described him as a model who simply followed the instructions given him in said gig and should not be blamed.
Assuming for purpose of argument that Coco must be spared of the feminist uproar against the insensitivity of his role in the said fashion gig, he could not be excused for his being a person who should have been responsible enough to discern the good and bad effect of his future actuation. Were people not all pounded by their forefathers, elders, parents, mentors and teachers that one should think before he acts? Did this ever occured in his mind? If yes, only he has the reason which he refuses to divulge to the public.
If Coco was an ordinary political luminary, people would aptly surmise that placed in the balance, the economic gain must have weighed greater than whatever people will eventually say against a questioned actuation. The luster and value of money pathetically outweighs the test of character and value. However, Coco is not this kind of a person, or so do people think of him based on the roles he portrays in the teleseryes (soap operas) and movies.
Coco's career, according to showbiz news, is now badly affected by the seemingly insensitive role he depicted in Bench fashion show. Worse, they had feelers that a prominent business establishment is pulling out all of Cocos ad tarps across the archipelago as aftermath of the denounced ramp walk of the matinee idol in said sensational Bench fashion gig.
Coco is apparently changing his wardrobe from the hearththrob roles to the "bida-kontrabida" portrayals. Is the insensitive savagery that Coco was allegedly instructed to depict in the show not coincidental? Whatever is happening to Coco's career is not the women's rights advocates groups, such as Gabriela, is concerned of but by the message the particular segment of the fashion show put forward.
Let this controversy be a reminder to all organizers. They should be gender sensitive and advocates as well of the dignity of women and children.