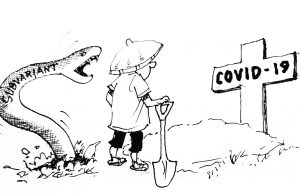 As people continue to lower their defenses against the lingering Covid-19 pandemic, the positivity rate likewise increases, sadly in key areas of the country. Based on the recent report of OCTA Research, this said rate has increased in the National Capital Region (NCR/Metro Manila) in just a matter of one week.
Why is the NCR crucial in this infection spike? Well, it is the country's center of governance, commerce, education, and many others. As such, it is frequented by so many people from different parts of the country—people who may be exposed to new infections and thus bring home the virus, spreading it anew in regional centers.
With this increasing positivity rate, it is likely that Covid cases may rise again, not just in Metro Manila, but throughout the country. That means another wave of infections may continue to increase in the next few weeks or months. This spike, health experts believe, may have been caused by a new infectious sub-variant of Omicron.
Indeed, the observance of basic health protocols proves wise in that this pandemic is not leaving us alone. The battle is far from over, and the risks are still real. Making light of this pandemic now is too early, although it has been around for years. It could still make people sick, or even make them die. Keep observing the health protocols, and get the necessary vaccine or booster.
Why gamble when the risks are still extant? It's better to be branded as overacting than to be menaced by this existing, dreaded virus.