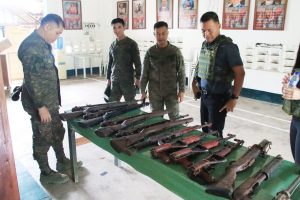 TACLOBAN CITY– At least 18 assorted firearms were surrendered by a former rebel to Army officials in Samar on Sunday (Nov. 20).
The cache of firearms was surrendered by alias 'Aljur,' 19, to Col. Juanito Parazo, Jr., the commanding officer of the 46th Infantry Battalion based in Calbiga town, Samar.
Based on the report of the battalion, the firearms were buried by the rebels in Barangay Sinalangtan, a remote and mountainous village of Calbiga which was once under the influence of the communist armed group, the New People's Army (NPA).
Captain Ryan Layug, the spokesperson of the 8th Infantry Division based at the Samar provincial capital of Catbalogan City, said that the surrendered cache of firearms will undergo some 'technical inspection.'
"Part of the technical inspection is to determine if (these firearms) came from our inventory and how we lost (them)," he said.
Layug also said that all these recovered firearms will be decommissioned as part of their SOP or standard operating procedure.
"Among the types of firearms recovered, only M16 rifle is being used by the AFP," he said.
Of the 18 firearms recovered, four were M14 rifles, six M16 rifles, four AK47 rifles, and one each of shotgun, KG9, 38 caliber pistol, M79 grenade launcher, and 14 AK47 magazines.
Last August 20, no less than Armed Forces Chief of Staff Lt. Gen.Bartolome Vicente Bacarro led in the decommissioning of 65 firearms either surrendered or captured by the government troops from the NPA members in the region.
Aljur, who just surrendered on Nov.19 to the government, was said to belong to the Squad 3, 'Bugsok' Platoon of the communist group operating in the towns of Sta. Rita, Pinabacdao, and Calbiga.
The former teener rebel disclosed that he has two elder brothers who are still active NPA members and urged them to return to the folds of the law.
Col.Parazo said that he welcomed the decision of Aljur to surrender together with the firearms.
"We sincerely thank them to abandon their wrong ideology and embrace the government's program to achieve peace," he said in a statement, referring to their appeal for the remaining rebels to give up their armed struggle against the government.
For his part, Col. Lenart Lelina, the commanding officer of the 801st Infantry Brigade based in Hinabangan town, also in Samar, vowed to help Aljur by providing him all the benefits he is entitled as surrenderee.
Lelina, for one, said, with the surrendered firearms alone, Aljur stand to receive almost P1 million.
The government provides a cash incentive to rebels who surrender their firearms.
(JOEY A. GABIETA)