TACLOBAN CITY – Over 1,000 students from remote schools in Eastern Samar are expected to benefit the free graduation pictorial under "Project Dagway."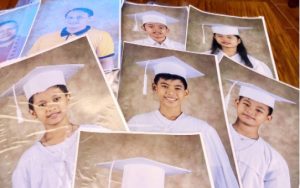 "Dagway," a Waray term for image, reflection, or light, was first launched in 2020 by amateur and professional photographers in Eastern Samar.
Following a two-year break due to the pandemic coronavirus disease(COVID-19), the team behind Project Dagway made the decision to once more offer free class portraits to those who cannot afford them, particularly in the remote schools of the province where graduating students cannot afford to have a graduation picture.
In 2020, more than 800 students benefited from the project which was implemented by the group in the towns of Jipapad, Arteche, and Taft.
"We want to continue our advocacy in helping thru the lens" Miguel Voloso, one of the administrators said in a statement.
The group is set to travel and have its pictorial on the Island of Homonhon, Guiuan where about 300 graduating students on the whole island are set to be captured for free graduation photos.
They are also set to visit the town of Maslog, the interior village of Hinolaso in Dolores municipality, and Matarinao in Salcedo town.
The project is a partnership with the provincial office of the Department of Education (DepEd) which identified and provided data on the students, and Sinirangan Pageants, a group of professional people in various fields who assisted with the students' care and gave them make-up before the photo shoot.
The group had set up a small studio with lights and strobes inside a classroom.
They photograph each student individually while they are wearing a toga, then print the images out as A4-sized photos for each student.
(ROEL T. AMAZONA)