CALBAYOG CITY– The provincial government of Samar in partnership with the National Commission on Culture and the Arts-Philippine Cultural Education Program (NCCA-PCEP), UST Graduate School-Center for Conservation of Cultural Property and Environment in the Tropics, and the city government of Calbayog, hosted a three-day national training on vulture-based governance for local government units at the Calbayog City Convention Center from November 16-18, 2022.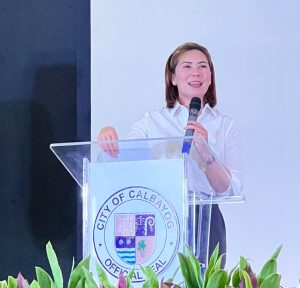 Key players in the use of culture-based governance shared how cultural awareness can promote economic development through tourism, culture, and heritage.
Governor Sharee Ann Tan, in her Spark Culture presentation, shared how her administration endeavored to change the negative image that has long lingered in the province, thus the birth of Spark Samar.
With the Spark Samar Development Agenda, several programs have been crafted to address the problems on insurgency, disaster, and poverty.
"We started with the cultural mapping program. This is a big help to really know who we are. Moving forward, we will know how to deal with the people to bring our Province to the next level," Gov. Tan said.
The governor also said that the results of cultural mapping should be shared and utilized by the community.
"It is about time for our children to appreciate what our ancestors have gone through, and understand our heritage. Through this, the dignity and pride of being a Samarnon is intact," she stressed.
Moreover, Dr. Sonny Cristobal, director of NCCA-PCEP, emphasized the important role of the local government in ensuring that the youth and the community understand its culture to better understand development.
Meanwhile, Vigan City former mayor Eva Marie S. Medina, and Iloilo City Tourism Officer Junel Ann Divinagracia shared their best practices that are worth replicating.
Medina likewise stressed that the community should feel how the programs positively impact each and every one saying, "Give importance to your people, involve them. Involve all sectors."
"Take care of the culture that has been lovingly taken cared of by our ancestors," Ms. Medina added.
On the other hand, Dr. Eric Zerrudo of UST Graduate Studies reminded the participants that there should be sustainable development in cultural heritage conservation and to do this, there should be intergenerational responsibility.
Cultural mapping, is an approach used to identify, record, and use cultural resources and activities for building communities, where communities map what is important to them.
The training gathered around 200 participants from the academe, local officials, tourism and cultural workers, artists club and organizations all over the country.
(SAMAR PUBLIC INFORMATION OFFICE)