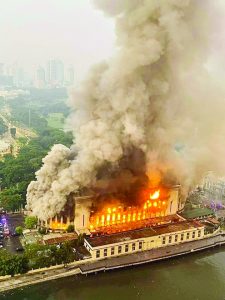 Fund is on top of NTA share
TACLOBAN CITY– The declaration made by President Ferdinand Marcos, Jr., to put up special funding for the least developed local government units in the country was roundly welcomed by both Governors Ben Evardone of Eastern Samar and Edwin Ongchuan of Northern Samar.
Gov. Evardone said that the promise of the President to provide special funding to poor local government units like Eastern Samar is a 'very welcomed' move.
Evardone, whose province is considered to be among the poor provinces in the country, said that with this promise of the President, poor LGUS will have additional funding to help them 'accelerate' their development.
"PBBM (has) committed to establish a special fund to help the poor LGUs accelerate their development. This is on top of the national tax allocation that LGUs receive annually for our share from national taxes," Evardone said in a text message on Saturday (May 20).
"I believe that this additional fund will enable poor LGUs to accelerate their development and ensure that we can deliver more essential social services to our people," he said.
Eastern Samar, which has a P1.77 billion internal revenue allotment (IRA) share now known as national tax allocation (NTA), has a poverty incidence of 29.4 percent based on the 2021 PSA poverty incidence report. This means, there are 29 poor families out 100 families in the province.
For his part, Northern Samar Gov. Ongchuan also welcomed the pronouncement of the President to provide special funding to the least developed LGUs.
"As governor of Northern Samar, we thank President Marcos for expressing his intent to support less developed LGUs in the country through additional funding," he said in a statement released from the provincial information office Sunday, said.
"With our limited resources, this will greatly help finance our development programs in the province as we try to keep our economic growth going," he added.
Northern Samar, while considered a second-class province with a P2.4 billion total income of which P1.82 billion sourced from its NTA share, continues to grapple with poverty. Its poverty incidence is at 11.9 percent covering the 2021 period based on the PSA records.
Mayor Aran Boller of Matuguinao, Samar, also expressed his support on this plan of the President.
"This will greatly help LGUs like Matuguinao that are dependent on IRA. This will give us additional funds to address the needs of our people, including the fight against insurgency," he said.
Matuguinao, a fifth class town, is also facing insurgency problem aside from its problem on poverty.
In his speech during the 4th general assembly of the League of Provinces of the Philippines held at Clark, Pampanga Friday (May 19), the President said that he is committing to put up a special funding for poor LGUs or those classified under third to sixth classes to help them defray other projects and programs other than mandated under the law or the Local Government Code.
"After identifying the functions that we feel belong to the national government, identifying the function that we feel belong to the local governments, again go back to the original concept was that mabigyan natin ng extra funding ang mga local governments," he said in his speech.
The President said that following the mandated allocations like personnel services, MOEE, and calamity funds, poor LGUs which solely depend on their NTA, have almost nothing to use for their other programs or projects.
"So what we were trying to do and what we are continuing to try to do is to allow our local government officials na mayroon namang pondo para magkaroon..yung mga initiative ninyo na mayroon kayong pondo para gagawin ninyo kung ano yung naisip ninyo. Hindi lang yung mga mandated, hindi lamang yung mga kailangang gawin na wala tayong discretion, walang discretion ang governor," the President added.
He, however, did not any details on this proposed plan of his administration.
In the same occasion, Mr. Marcos also disclosed on the suspension up to one year the implementation of Executive Order 138 which mandates for the devolution of some programs and projects which are to be funded by the LGUs as mandated under the using their NTA based on the Mandanas vs. Garcia ruling.
The said ruling was also criticized by LGUs, especially the least developed ones, saying it will be another burden to those who are dependent on the national government's assistance.
JOEY A. GABIETA