TACLOBAN CITY-June 1 of this year is the much-awaited date for Jay-ar Abuda who will finally receive his college diploma after four years of literally pedaling his way to college.
The 31-year old man native of Quinapondan, Eastern Samar is taking Bachelor of Science in Information Technology major in food technology at the Eastern Samar State University-Guiuan campus in Guiuan town.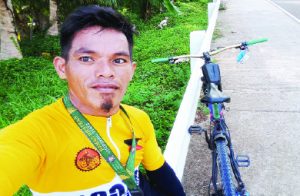 For the past four years, Abuda, a polio survivor, using a bicycle has been traveling from their home in Barangay 5 to Guiuan, or with a distance of 49 kms.
Abuda do this ritual every week, leaving their home at 6 am using his bicycle and arriving in Guiuan three or four hours later, depending on weather condition.
"My ambition to get a college diploma is for me to have a decent job. It is the driving force why I made all these sacrifices. I want to help my mother who sacrificed so much for our family," he said in a phone interview.
"And finally, I will have the diploma on June 1, our graduation day," Abuda added.
Abuda travel to Guiuan every weekend where he lived in a boarding house for free, thanks to the generosity of the owner, whom he called 'Lola Telding,' and in turn, he acts as the housekeeper.
His 70-year old mother, whose been widowed since he was two years old, worked as a market vendor which she used to put foods for the family consisting of seven children.
Abuda is the second to the youngest among the siblings.
All have their own families now except Abuda and their youngest, Blendy,25 whom he sent to school and just finished a tourism course in a private school in Tacloban City.
According to Abuda, he helped her youngest sister and their mother by driving a pedicab, earning him at least P300 a day. He's been driving a pedicab since he was 14 but on the side, continue his studies until he graduated his Senior High in 2017.
"My sister finished her college in 2014 and now works in Manila. She also helped me in my studies by sending money to me every now and then," he said.
Abuda said he never demanded from Blendy to give him financial help or any of his siblings, much more to their mother.
It took him a two-year hiatus before he started to attend his college in 2019.
"I earn by driving a pedicab around town here in Quinapondan if I don't have a class. And by Saturday or Sunday, I travel for Guiuan using my bicycle. It takes me sometimes three or four hours, depending the weather," he said.
If the weather is fine, he could make it to Guiuan in three hours and additional one hour, if it's raining or hot.
"I am proud of myself. That despite of the hardships and my physical condition, I was able to complete my studies and looking forward to practice it, perhaps work in one of the hotels in Guiuan," Abuda said.
And help his mother, too, he said.
(JOEY A. GABIETA)