NSSDEO, Brgy. Burabud, Laoang, N. Samar– The Department of Public Works and Highways-Northern Samar Second District Engineering Office(DPWH-NSSDEO) finance section personnel participated in the consultation meeting for the Full time Delivery Unit (FDU) of the Department of Budget and Management(DBM)– DPWH Region VIII Fiscal Year 2023 mid-year Agency Performance Review (APR) held last August 29, 2023 via Google Meet.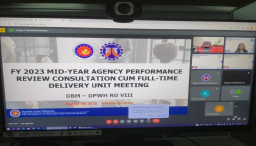 The meeting was organized by DBM-Regional Office VIII and attended by all DPWH-District Engineering Offices regionwide.
The proper meeting was graced by the welcome message of DBM Regional Director Imelda C. Laceras followed by a series of Agency Performance Review Reports for the 1st semester of the current year 2023, participated in by all DEOs.
On the other hand, Neuman N. Gallardo, Sr., BMS of DBM-RO8, discussed the FY 2022 DPWH performance and updates on DBM issuance and relevant policies; a summary of FY 2023 1st semester Budget and Financial Accountability Reports (BFARs) submission of Unified Reporting System (URS) was also discussed by Solie T. Dosado, senior BMS, DBM-RO8 and ways forward by Juvy A. Lobedica, chief BMS, DBM-RO8, followed by a closing message given by Assistant Regional Director Aleli N. Hernandez, DBM-RO8.
The aforementioned consultation meeting was attended by NSSDEO personnel of the Finance Section: Romeo C. Ramirez, administrative assistant I and Kristin Kalayaan R. Flores, administrative aide I.
In addition, Engr. Genaro C. Pinca Jr., Engineer II of Construction Section and Engr. Meryl E. Tendido, Engineer I of the Planning & Design Section were also present during the meeting.
(KRISTIN KALAYAAN R. FLORES, PIO STAFF/PR