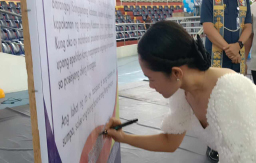 TACLOBAN CITY – Candidates of the October 30 barangay and Sangguniang Kabataan elections from this city vowed to make the balloting free and orderly.
The more than 2,000 candidates attended a peace covenant on Friday (Sept.29) held at the Tacloban convention center, or astrodome, initiated by the city office of the Commission on Elections (Comelec).
The morning event was also attended by the City Police Office, the City Prosecutor's Office, military, and other stakeholders.
"This peace covenant signing is very important for us to have a peaceful, safe, orderly, credible, and most of all, successful barangay and SK elections," lawyer Ma. Goretti Cañas, city elections officer, said during the event.
Tacloban City is placed under 'Green category' by the security and the Comelec.
Areas placed under the said category are considered not "areas of concern" or no recorded intense political rivalry, no presence of private armed groups and history of election related violence.
"We wish to maintain such category with the help of our candidates, their supporters, and the voters as well," Cañas said, adding that their office would do everything to make sure that no political violence would erupt in Tacloban City comes the barangay and SK balloting.
City police director Col Michael Palermo, in his message during the covenant signing, assured of their commitment to ensuring that the forthcoming elections will be secure and orderly.
"Even the smallest and simplest deed will significantly contribute to our common goal…to ensure the voting populace that we are sincere in giving them our utmost respect for their right to vote without any intimidation and let them choose the leader that the city deserves," he said.
After the covenant signing, a forum followed where Cañas informed the candidates to strictly follow the elections law for them not to be charged for any violation relative to the conduct of the balloting.
(ROEL T. AMAZONA)