Also as a way to decongest NAIA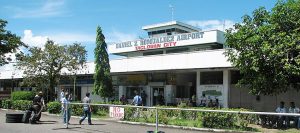 ORMOC CITY– The Regional Development Council (RDC) endorsed a resolution urging airline companies to open and offer flights from the Tacloban's Daniel Z. Romualdez (DZR) Airport to the Clark International Airport in Pampanga.
Offering a flight from Tacloban DZR Airport to the Clark International Airport will help decongest the Ninoy Aquino International Airport (NAIA), the resolution, passed during the council's meeting held this city on Tuesday (Sept. 26) said.
Connecting DZR to Clark, it added, will also be an opportunity for the region to encourage more people to travel, thus, help promote the region's tourism, and increase income for both the private establishments and the local government, it added.
"If we open this route, it will really open up more chances for people in that area in the north of Luzon to come and visit Eastern Visayas because it would be now more convenient for them to come," Karina Rosa Tiopes, the regional director of the Department of Tourism, said.
"And that also will open both doors. It's an opportunity for them and an opportunity for us and it's what we are looking for in tourism hindi lang one way," she added.
At present, there are 20 daily flights from DZR Airport to NAIA.
Prior to the pandemic, there was a flight connecting DZR Airport and Clark through AirAsia but this was canceled in 2020 because of the reduction of flights due to travel restrictions.
Since travel restriction was lifted and more flights were offered, DZR Airport was ranked 7th as the country's busiest airport with 1,489,803 passenger movements.
Officials of the council added that the immediate completion of the improvement of the DZR Airport is also necessary to accommodate more passengers. (ROEL T. AMAZONA)