Heavy turnout of brgy and SK candidates noted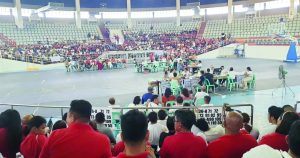 TACLOBAN CITY– The first day of the filing of certificates of candidacy here in the region relative to the conduct of the barangay and Sangguniang Kabataan (SK) elections was declared as 'generally peaceful' by the Commission on Elections (Comelec).
However, three persons were arrested at the Comelec checkpoints for possession of a deadly weapon and firearms.
The Comelec has imposed a gun ban to ensure a peaceful barangay and SK elections on October 30 of this year.
Lawyer Felicisimo Embalsado, Comelec assistant regional director, said that based on the report from the police, no major untoward incident happened during the first day of the filing of the CoCs for the barangay and SK elections.
"It was generally peaceful though there was a heavy turnout of the number of candidates for the barangay and SK elections," he said on Tuesday (August 29).
The five-day filing of the CoCs for those interested to run for the barangay and SK polls began on Monday.
Based on the record of the Comelec-8, 13,985 have submitted their CoCs for the barangay polls while another 9,778 have filed CoCs for the SK.
The number of candidates, however, does not include several areas due to their non-submission yet of the listing.
These areas include the cities of Tacloban and Calbayog, and the towns of Daram in Samar; Taft and Dolores, both in Eastern Samar; and Bobon in Northern Samar.
The region has 4,365 barangays.
Meantime, Police B/Gen.Vincent Calanoga, police regional director, said that checkpoints were established across the region to ensure that the Oct30 balloting will be peaceful and orderly.
Gun ban was also imposed effective Monday as another measure for any violence to disrupt the village elections, he added.
"All permits to carry firearms are now canceled unless (gun owner) has a certificate of authorization from the Comelec," Calanoga said.
As this developed, two men identified to be job order workers of the municipal government of Calubian, Leyte were arrested at a Comelec checkpoint on Monday for possession of firearms.
The two, Bryan Boter,40, and Jessie Boy Bordaje,26, were on board of a motorcycle when they were stopped at a checkpoint where they were found to be in possession of firearms and ammunitions.
Seized from Boter was a Caliber 45 Colt with 14 live ammunitions while Cal.38 pistol loaded with four live ammunitions were recovered from Bordaje.
In MacArthur, Eastern Samar, Romeo Bailla,51, was flagged down at a checkpoint with the police discovered that the suspect was in possession of a bladed weapon.
Boter and Bordaje were charged for illegal possession of firearm while Bailla was charged for possession of a deadly weapon, all in relation to the Omnibus Code of the Comelec.
The three are now detained.
JOEY A. GABIETA/ROBERT DEJON