TABONTABON, Leyte
'Magtanim ay di biro
Maghapong nakayuko…..'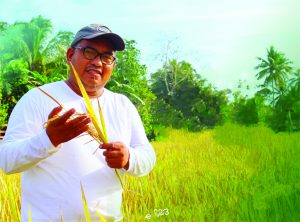 So goes part of a song that is closely associated with how our farmers are being portrayed.
And this image is what a farm school, albeit relatively new, based in this town owned by Hercito Bibar, who hope to change it.
Bibar, 'Tor' to his friends, established his one-hectare farm school located in Barangay San Pablo while the pandemic was raging.
While his original plan is just to make the agricultural lot he inherited from his father productive, he got a change of heart when he noticed that some of the farmers in their village are not only using the old traditional way of farming but are also aging.
"For one, most of the farmers in the village were using the ordinary palay seeds with the help of their carabaos," the 52-year-old Bibar, who is also a radio broadcaster with over two decades experience, said.
Bibar said that he is using the high-yielding certified seeds and a tractor to increase the yield and make farming less physical stressful.
He said that for a half hectare of farm lot, his yield is more than 100 cavans, higher compared to those using ordinary palay seeds which is around 80 cavans.
And by using a tractor, a farmer could prepare the lot for planting in just a matter of two hours, compared to using a carabao which could last even a week.
"This is the reason why some of our young people find farming less attractive as they chose to work outside. They find it dirty and very physical, compare to say working in an office or even as house help," Bibar said.
Tabontabon is an agricultural town of which out of its 16 barangays, only four have no farming areas as they are all located within the town center. However, it is estimated that only 30 percent of the farmers of the town are into mechanization with a total average production of about 4,000 metric tons. And most of these farm lots rely on rain rather than irrigation system for a sustained supply of water to the farms.
Based on the registry of the municipal agriculture office, the town has about 1,200 farmers. The town has a population of 11,902 based on the record of the Philippine Statistics Authority.
Cheri Gil Tagana, the municipal agriculture officer, said that the municipal government is happy that a farm school like that of Bibar is operating in their town not only to teach new farming methods but also to encourage young people to go into farming.
"We are happy that we have a learning school here in Tabontabon and the beauty of it is that it introduces new farming methods which our farmers can apply," she said.
"(And) our senior high school students, are being encouraged to attend the training at the Bibar's Farm, giving them new insights about farming. That it is not all hardship but is also fun to do," Tagana said.
Bibar said that while almost all activities and movements were either stopped or restricted when the coronavirus disease (COVID-19) pandemic hit the country in 2019, their farm trainings were not affected.
For one, he said, the trainings they conducted were held in outside, even under a tree.
"We have only limited participants, 30 at most and we practiced all the protocols like the wearing of face mask and the use of sanitizers," he said.
Bibar said that they went to the different barangays not only from Tabontabon but nearby municipalities like Dagami and Julita.
The participants were either farmers or children of the farmers.
One of them was Joebert Llagas, 19, who is from Jaro town.
He said that he was encouraged to attend the free training at the Bibar's Farm for him to learn more about farming.
"They say that farming is tiring and a dirty job but since I attended here, not only I find it to be fun but gives me an idea of how important farming and our farmers are for all of us," Llagas said.
He said that since he started attending the training, which is just about 15 days, he learn to respect more on the farmers.
"They provide us food. It is just sad that some of the youths today do not find it attractive for a living. They see it as hard and filthy," Llaga said.
As part of the training, Llaga and the rest of the students, makes actual farm work, planting palay seeds with their bare hands.
And on the side, they also get to plant vegetables as part of the 'diversification' method of farming, as well as to make some concoctions as fertilizers.
Llaga, who is now in his second year at the Colegio de Santa Lourdes of Leyte Foundation, Inc. which is in Tabontabon, taking business entrepreneurship, said that he will practice what he has learned.
While his family does not own any farm lot, his uncle is a farmer and till a hectare of lot.
Mary Jane Pallomina, one of the trainors of the Bibar's Farm, said that she finds it exciting that many of the students are young.
"Most of our farmers now are aging. And I find it exciting that many of our students here are young and eager to learn about farming. Hopefully, they will become our next farmers who are open to using modern methods of farming," the mother of six children said.
Pallomina herself comes from a family of farmers in Alangalang, also in Leyte. In fact, her husband, Nelson, is also a farmer. And while her eldest son is taking an engineering course, he too would like to learn about farming, Pallomina said.
Rodolfo Estigoy, a technical consultant on extension support education and training services of the Philippine Center for Postharvest Development and Mechanization (PhilMech), an attached agency of the Department of Agriculture (DA), said that he is happy that such a farming school like Bibar's Farm is going its way to encourage young people to appreciate farming and even go into actually farming themselves.
Estigoy said that it is about time that young people like Llaga join the farming industry considering that the sector has been identified to be 'aging.'
The DA in the region has no immediate data as to how many farmers in Eastern Visayas are considered as 'aging' or those whose ages are 50 years old and above.
The official said that he feels sad that most of the young today, including even children of farmers, have an apparent distaste of farming.
"We knew that our farmers are aging. Now, if there will be no new blood, we will have a problem in the future in terms of sustaining our efforts in agriculture," Estigoy said.
Apparently, the song of 'magtanim ay di biro…' has stuck to the minds of the young people, he added.
"Bakit hindi pumupunta sa agriculture ang mga kabataan? Totoo, mahirap ang gawain sa pagbubukid. Katunayan, may kanta tayo diyan:'magtanim ay di biro. Maghapong nakayuko." Who would like to do that?' he said.
He also said that the 'image' of a farmer also stuck in the minds of the young people, the reason why there is a 'low' regards for them.
"Ang baba ng tinging dito sa Pilipinas sa mga farmers dahil ano ang pag-portray ng mga farmers dito sa atin-nakasumbrero ng butas-butas, nakapaa, mahirap ang hitsura," Estigoy said.
Estigoy said that among the thrusts of their office, is to make some 'rebranding' on the image of our farmers.
He explained that farming in the country should not be equated to poverty.
As part of their campaign is to introduce farming mechanization which will help the farmers have increased output and in the process, higher income.
This way, the young people will also be encouraged to go into farming, he added.
"We introduce to them machinery rice farming, gagaan ang trabaho sa bukid. Because of this, baka mahikayat natin ang mga kabataan na humalili sa mga old farmers natin…nakasakay sila sa tractor," Estigoy said.
It was learned from him that their office is offering farming equipment to farmers. However, for them to receive the offer, they must form an organization for easy facilitation.
These farmers, in turn, could just visit their local governments through their agriculture offices.
Estigoy said that they are hoping that this program will help encourage the young ones to go into farming.
And this is the very same mission of Bibar as to why he turned his farm lot into a farming school.
Bibar has tied up with the Technical Education and Skills Development Authority (TESDA) to make his farm as a learning site in 2019 which pay the training fees of the students.
In the same year, it was also given accreditation by the Agricultural Training Institute, an attached agency of DA responsible for training agricultural extension workers and their clientele.
Since the Bibar's Farm started, over 1,000 students have graduated from their trainings.
Bibar said that he too, hopes that the young people who have undergone training at his farm school will really engage in farming and help remain the 'aging' industry the needed shot in the arms.
Sadly, Bibar admitted that two of their trainees chose to work abroad where they practice what they have learned from his farm school.
'That is their choice. We cannot stop them from leaving and working abroad. But I am still optimistic that our trainees will still choose to work here and give the much-needed shot in the arm in our agriculture sector," he said.
By: JOEY A. GABIETA