Much as we commend the exceedingly improved physical appearance of the renowned San Juanico bridge with the lighting effects that have been installed along its sides, we cannot also deny the fact that its grandeur is pitifully spoiled by certain eyesores.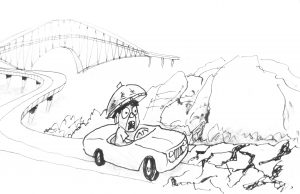 Yes, this bridge turns into an enchantment at night, amazingly glowing in the dark as it emits into the atmosphere rainbows of spectacular lights. The magical display captures everyone's attention and leaves the spectators in awe as the majestic lights penetrate the high clouds and illuminate the open skies.
But the exhilarating experience of watching an extraordinary view quickly turns into a nightmare for land travelers from the island of Leyte. For after a few kilometers away, they start rocking from side to side, up and down, as they drive on perhaps the roughest highway in the country. The cracks on the road are too huge and many could send vehicles into the air with careless drivers.
Why? The stretch of the highway between the cities of Tacloban and Catbalogan is just so bad it is almost unfit for land travel. This badly-damaged part of the Maharlika highway extends within Samar province, which is not entirely surprising given the massive corruption practices that this province has been known for. While roads and highways in other parts of the country boast beauty, space, and durability, this Samar highway remains in a Jurassic state.
Why spend so much in beautifying a bridge if it merely leads you to the pits of destruction and discomfort? Why not prioritize the highway first through the acquisition of quality materials and workmanship? Surely, there is nothing wrong with making this bridge elegant, but if its connecting routes are ruined by neglect, then its beauty is just tainted.