TACLOBAN CITY-As part of its ongoing efforts against African Swine Fever (ASF), a highly contagious viral hog disease, the City Government, through the City Veterinary Office (CVO), recently organized an orientation seminar on Ordinance No. 2023-15-04, which adopts the Bantay ASF sa Barangay Program.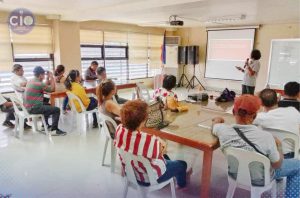 Barangay officials from Areas 8 to 10 attended the 2-day activity, which will ultimately result in the adoption of mitigation measures on ASF, including the designation of barangay biosecurity officers to help in preemptive measures against the viral hog disease.
Under the City Ordinance, the Biosecurity Officers can conduct sample collection in their respective barangays with the coordination and supervision of the City Veterinarian or City Agriculturist and monitor and evaluate commercial and small-holding farms, among other responsibilities.
According to City Veterinarian Dr. Eunice Alcantara, the recently held activity is a requirement for the eventual reclassification of Tacloban City as an ASF-free area.
Meanwhile, Dr. Alcantara reported that Tacloban City currently has no new cases of ASF and has no total ban on pork meat and products, except in areas classified as "red zones."
However, the entry of hog meat products from areas under the pink and yellow zones, or surveillance zones, is heavily regulated by the office, and dealers are required to secure a Certificate of Acceptance before their entry into the city.
Accordingly, the CVO processes an average of 10 to 11 acceptance letters daily.
Before a certificate of acceptance is granted, shippers of meat and processed meat products must provide the following documents: a business license, a certificate of product registration, a certificate of meat inspection, a certificate of registration or licensing of a transport carrier by NMIS and VQS, and a photograph of the transport carrier.
On the other hand, ASF-free status certification, farm registration, a veterinary health certificate, a livestock handlers permit from the DA, disinfection clearance, a certificate of vehicle registration from the DA, a picture of the transport carrier, a master list of recipients within Tacloban City, and registration of livestock and poultry transport carriers are necessary for dealers of live hogs.
The other preemptive measure being implemented by the veterinary office is the blood sampling of hogs; samples are sent to the Regional Animal Disease Diagnostic Laboratory for testing.
(HENRY JAMES ROCA/CIO)