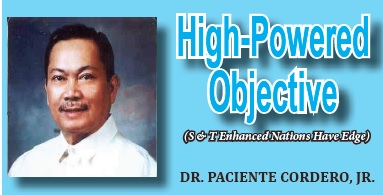 Not only does Andok's eatery nationwide 800 plus outlets shares its palatable, inviting chicken-eating experience, it helps the country cut-down on unemployment problem. The founder of the popular eatery has now earned the uncontested monicker "father of lechon manok". His entrepreneurial prowess and peculiar "advocacy for agriculture will help Agrilink in providing stakeholders, consumers and farmers a better understanding of how diverse yet climate change resilient supply and value chains help address increasingly changing consumer demands whikle keeping our agricultural industry globally competitive."
I had the opportunity to meet him and her wife, Leyte's 2nd District Representative Honorable Lolita Javier, then the graduation speaker at the Burauen Comprehensive National High School in June 2019. I never doubted that his entrepreneurial advocacy Mr. Leonardo "Sandy" Javier, Jr., casually dressed with an unassuming personality, would be recognized by tapping him to chair the 2019 "26th edition of the country's premier international exhibition on agriculture, food and aquaculture" – the AGRILINK.
I have featured him previously in this column, very appreciative of his leadership as a 3-termer Mayor of Javier town, a relatively small town named after their father who served as Head of the municipality. He has put Javier town in the map among the country's agriculture-oriented LGUs. Figuratively speaking, Mr. Sandy Javier have made every inch of the town's agriculture land into a productive hub for cacao, coconut, bananas, dragon fruit, native chili, tomato, watermelon, corn and ginger among others. He has converted his 7 hectares into a virtual Agri-tourism area, unmatched in the Province of Leyte!
I could only dream and wish that the other heads of LGUs not only in Leyte, Region 8 and the entire country could come down to Javier, Leyte and see for themselves what the Javier Family has converted the small town into a highly productive, very minimal sight of 'stand-bys', as the populace get up early in the morning to till their farms.
ooo000ooo
NEXT TOPIC : "Bringing S & T to Region 8: A Realization of My Advocacy"
SHARE S & T THOUGHTS through E-Mail: drpacjr@yahoo.com.