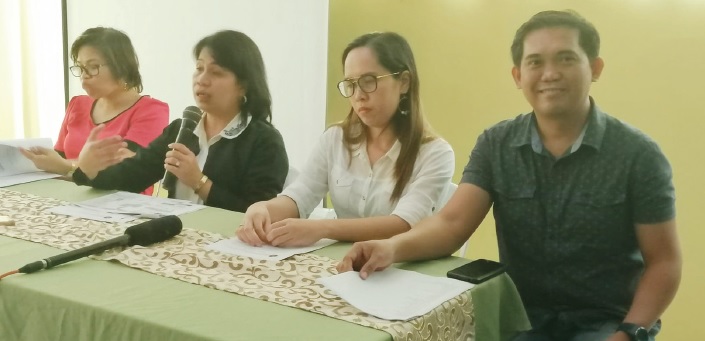 Now considered as a national social emergency
By: Joey A. Gabieta
TACLOBAN CITY-The Commission on Population and Development (Popcom) here in the region has expressed alarm on the increasing number of teenagers getting pregnant as it vows to further strengthen its various programs to address this social issue.
However, the burgeoning teenagers getting pregnant in the region, the youngest recorded were two 10-year old girls, could be better addressed at home, said Elnora Pulma, Popcom regional director in a press conference Monday.
Based on their records, teenage pregnancy, now considered to be a national social emergency, in the region stand at about 6.9 percent comprising the population of 10 to 19 years old of teenage girls.
And of this number, two percent of them have repeated pregnancies.
Also disturbing is about 247 schools across the region reported of teenage pregnancy cases.
"This trend is not only in Eastern Visayas but a nationwide trend that is why, it is now a national social emergency. That's why, it calls for a national action for everyone to address this (social problem)," she said.
Pulma confirms that two 10-year old girls were the youngest in the region to have got pregnant. The Popcom regional head, however, did not elaborate on this matter except to say that one was from Leyte and the other was from Eastern Samar.
"This is very alarming," she said.
Thus, she said, they are bent in addressing this social problem by strengthening various programs as the issue does not only affect the teener themselves but, in the long run, the country's future as well.
She, however, admitted that their programs could not really make a dent without the help of the parents of the teenagers themselves.
She encouraged the parents to have an open communication with their teenage children about sex and its implications if they will engage it at their early age.
Reyan Arinto, chief of the technical services unit of Popcom-8, said that among the reasons cited for the increasing teenage pregnancy cases in the country were social media where they get access on pornographic materials; peer pressure; and to show how they love their boyfriends.
"Seventy percent of our young people are connected to social media and their access to cellphones on pornographic materials engage in early sexual engagement," he said, citing one of the reasons for the increasing teenage pregnancies.
And in most of these cases, these teenagers engages in unprotective sexual intercourse which led to pregnancy, he said.
Family disintegration was also cited as another reason on the rising number of teenage pregnancies, said Popcom assistant regional director Melanie Alberto.
Arinto said the national government want this teenage pregnancy be properly addressed as it has implications.
For one, he said, young girls who get pregnant stop their studies, depriving them possible good future as they instead continue to depend on their parents for their daily needs.
"This will repeat the cycle of poverty," Arinto said.
Citing figures from the National Economic Development Authority (NEDA) at least 10 million teenagers lost the opportunity to join the country's workforce due to early pregnancy.
Arinto said that they are going to schools to discuss the issue using a module dubbed as sexually healthy and empowered adolescent,wherein the teenagers are being taught of their fertility and life skills that could help them avoid engaging in sex at their early age.
"We also have a learning package of parenting and adolescent development which is being taught to our parents how to handle their children who are entering their adolescent years," Arinto said.
With the parents themselves discussing this sensitive issue with their children, concern on teenage pregnancy could be better addressed as they would no longer seek opinion from their own peers who themselves are not totally equip on the matter, he added.