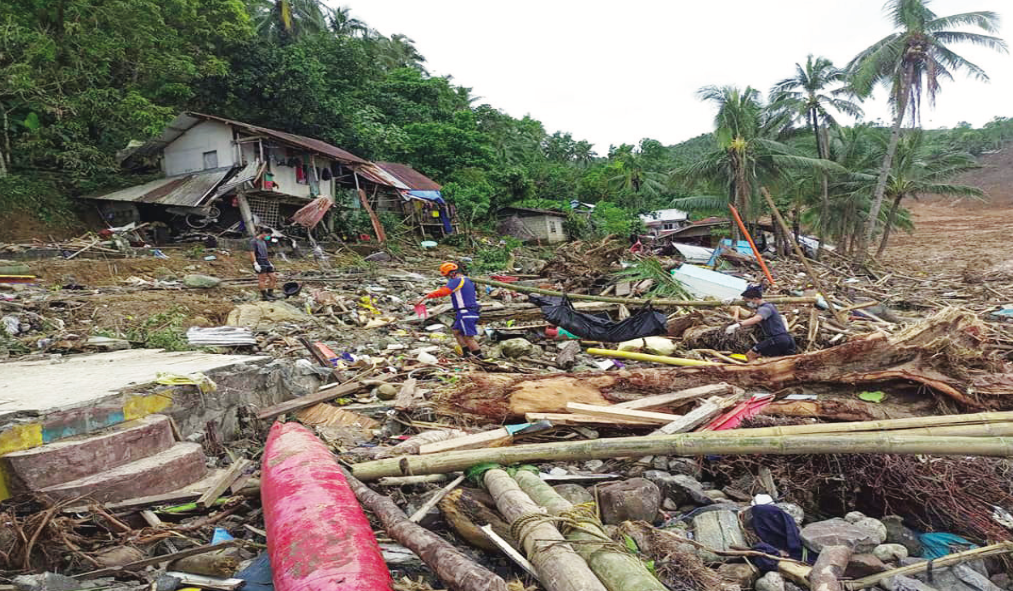 ABUYOG, Leyte-   The mayor of this town where an entire village was almost entombed by a landslide due to tropical depression 'Agaton,' said that he is considering of prohibiting the affected village be declared as no longer fit for habitation
Mayor Lemuel Gin Traya said that he will invite geologists from the Mines and Geosciences Bureau (MGB) of the Department of Environment and Natural Resources (DENR) to conduct an inspection in Barangay Pilar if it's still suitable for occupancy.
Traya admitted that the area has been declared as a danger zone due to possible landslide back in 2018.
But what happened on April 12 at around 4 pm was a first time occurrence, the town mayor added.
"We were advised that it was a hazardous area but the people there find it difficult to relocate due mainly of their livelihood," Traya said. The villagers mostly rely on fishing as their source of livelihood.
And due to the massive landslide incident," we will request geologists to conduct an inspection to see if the area is still safe to live.'
For one, the town mayor said that they will be constructing bunkhouses as temporary shelter for the affected families in Pilar immediately considering that these evacuees could stay at the evacuation centers at least for three months.
The temporary shelters of these families will be located at the three-hectare lot owned by the family of the mayor in Barangay Tinale.
Pilar has 478 residents of which 48 have been confirmed to have died, which include village chairwoman Adelaida Rosquites whose dead body was only found last Thursday.
At least 55 Pilar residents are still being considered as missing with retrieval operation ongoing which include of searching along shoreline up to portion of Southern Leyte province.
"At least 95% of Pilar has been destroyed," he said.
Aside from Pilar, the villages of Tib-o, Bahay and Combis have reported of death. Tib-o has two fatalities with the two villages have confirmed one each.
Meantime, in Baybay City, the worst hit area in Leyte due to the multiple landslides brought by Agaton has now risen to 116 as of Sunday afternoon.
Based on the records of the City Disaster Risk Reduction Management Office, the 116 deaths were from Mailhi,22; Kantagnos,55; Bunga,18; Maypatag,2; Pangasugan,2; Candadam,1; San Agustin,1; Zone 21,1; Hicgop,1; Can-ipa,5; Igang,1; Palhi,2; Sto. Rosario,1; Gacat,1; and Inopacan,1.
At least 75 individuals are considered missing with 67 from Kantagnos; seven from Mailhi; and one from Pangasugan. (JOEY A. GABIETA)