As the death toll rises in landslide-hit areas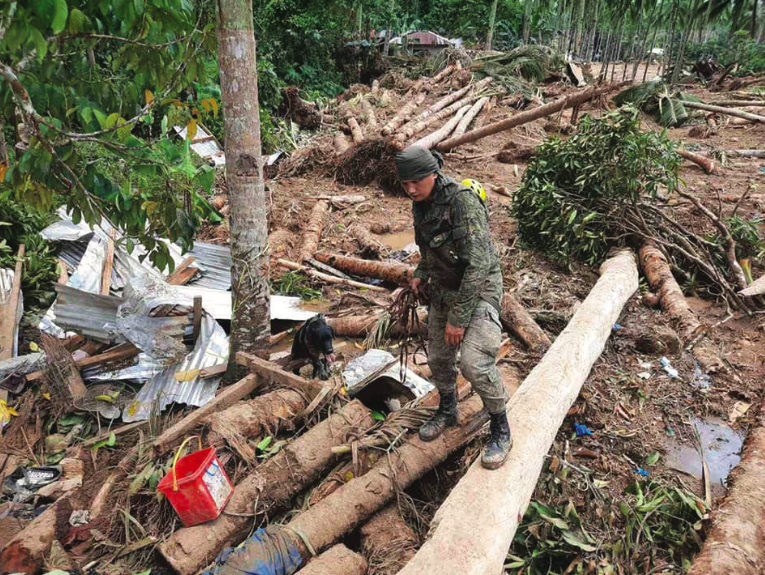 TACLOBAN CITY- After almost 10 days after Baybay City and its nearby town of Abuyog, both in Leyte, were devastated by deadly landslide incidents, authorities will still continue their search, rescue, and retrieval (SRR) operations.
Col. Noel Vestuir, the commanding officer of the 802nd Infantry Brigade whose group of soldiers are part of the SRR along with other government security forces, said that they will continue their operations until they are ordered not to do so.
"As long as there is no order for us to stop, the AFP will continue its SRR," Vestuir said in an interview.
"People still continue to hope that their loved ones could still be accounted for," he added.
It was learned that the SRR group has employed K9 dogs to help them find bodies entombed by the avalanche.
Aside from the soldiers, also helping the SRR are police and members of the Bureau of Fire Protection aside from the personnel of the areas' disaster risk reduction management offices.
On Monday morning, Vestuir said that they have found three dead bodies in Barangay Kantagnos, which appeared to be the worst-hit village in Baybay. This raised to 58 of its fatalities.
The city, in all, has now 118 fatalities with 70 missing individuals.
Vestuir said that his men are still in the villages which suffered landslide incidents due to the heavy rains dumped by tropical depression 'Agaton' that hit the city on April 10.
The Army officer, however, said that while they are carrying out their works, they also consider the safety of his men as the landslide-hit villages like Kantagnos remain to be hazardous.
He disclosed that a team from the Department of Health and the Mines and Geosciences Bureau went to Kantagnos to assess its condition as its safety and health.
Meantime, Abuyog Mayor Lemuel Gin Traya said that he will ask for the opinions of medical experts as to when the retrieval operations in Pilar will be called off.
"I will wait for the advice from our medical experts as to when we can stop our retrieval operations. But right now, we are focusing in our efforts in combing the coasts of Abuyog and (even) along Southern Leyte," he said.
He stressed that considering of the current condition of Pilar, which was practically entombed by mud, boulders, and fallen trees, the rescuers are finding some difficulties in their operations.
So far, 48 residents of the village have been confirmed to have died with still 55 remain missing.