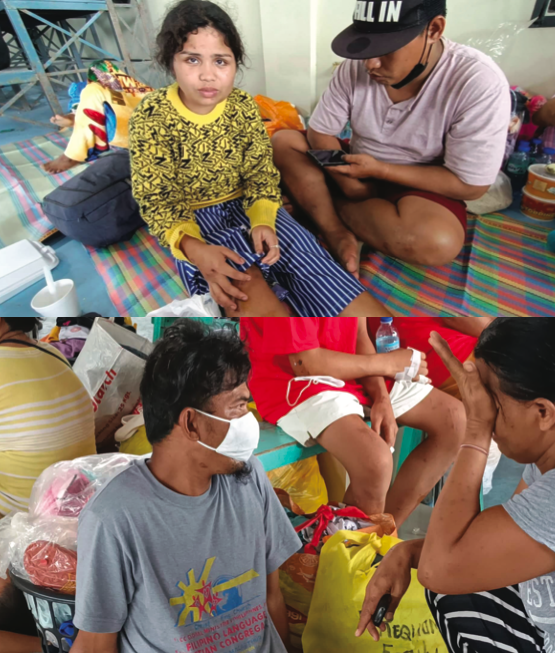 ABUYOG, Leyte- After multiple landslide incidents that hit Baybay City that resulted in the death of 116 people, a similar incident also hit this town burying an entire coastal village located at a foot of a mountain.
Prior to the landslide, more than 30 villages of the town were submerged in floodwater on April 11 but as the water receded, three landslide incidents happened in the municipality, resulting in the death of several residents.
Of the villages hit, Barangay Pilar was the worst hit, just close to four months after it also suffered the wrath of typhoon 'Odette' last December that affected almost all of its more than 400 residents.
Daisy Mae Villaroel and his common-law-husband, Junrel Palima, described what happened to their family when the landslide hit Pilar in the afternoon of April 12.
They were staying in a house of a relative as their house was totally damaged when typhoon 'Odette' hit Abuyog last December.
Among those who died due to the landslide was the couple's son, Zaryl Dae, 2.
"Bahala ngani ug nay iba nga nangasamad basta ang ilang anak safe. Bahalag ako masamdan basta safe ang akong anak, pero wala kuy mahimu," Villaroel said.
Villaroel said that people went into panic to run to safety but no matter how fast they could run, it was unmatched by the speed of the ranging waves rushing toward their community.
After the water receded, a relative saw their son, with a rope tangled at his neck, already dead, she said.
The news about his son's death was so devastating, Junrel, who was on his way home from Baybay City when the tragedy struck their village.
The dejected father said that if he was only present that time, maybe his son could have been saved.
"Di ko nagdahum nga, murag na kuwan ko ba, akung gi kuwan ang akung kaugalingon, wa ko sa akung pamilya…wala ko makatabang… murag ma safety pa man siguro tu kung diha pa ko atu," he said.
Losing their home and now their son, the couple said that they have no plan of ever returning to Pilar.
Santiago Dahunog was at the house of his elder brother when the landslide happened along with his younger brother and two nephews.
Before the big wave hits their community, they heard a large sound similar to an explosion. Then they saw big waves rushing to their community.
"Wala na, hindi ko na nga kuwan kung makaligtas pa ako, hindi ko na alam kay nabaun na sa lupa, lampas tuhod  na lupa, tapos na nagapos ang aking kamot pagkuwan sa tubig kay ninhumok na ang lupa nangusog ko para makuwan ko ang pisi mau nga nakalutaw ko, pagkalutaw ko gitangtang ko ang pisi sa akong kamot mao na nga nidagsa na ko sa daplin," Dahunog narrated.
After the water receded, Dahunog said that he can no longer find his two brothers and nephews, no matter how he searched for them.
But later it was learned that his brothers and nephews were found but already dead.
"Masakit," this was his only reply when asked how he feels learning that his relatives are already dead.
His sister-in-law Emilita Dahunog cannot stop crying at the sad news that her husband and two children died in the landslide.
Emilita said that prior to the landslide, her family evacuated to a higher ground identified as ean vacuation site for the village.
But her husband, Reynaldo and children Jerson,26, and Jomar,27, went back to the village to check their motorboat.
"Didtu na sila sa igbaw, pero ning lugsong pa man ang akung asawa ug anak kay panginanuon kuno ang sakayan namun," Emilita shares.
"Kasakit, wan a mi lami ig kaun, wan a tu'og. Kalaina sa lawas. Bahala nag wala na sakayan basta buhi lang mga anak ko ug bana," Emilita said while crying.
With this sad experience and their community washed out by the disaster, Emilita and her brother-in-law Santiago said that their family will no longer return to Pilar.
At least 48 residents of the village have been confirmed to have died due to the landslide.
Search, retrieval, and recovery operation is still on-going to find the remaining 55 missing residents.
Mayor Lemuel Gin Traya said that operations are mainly focused on water and shoreline because of the unstable soil condition at the landslide site.
Traya added that residents of Pilar are no longer allowed to return to their old community and will have to stay at the evacuation site for three months while waiting for the temporary shelters where they will stay until such time the government could finish constructing the permanent housing facility promised by President Rodrigo Duterte when he visited Baybay City in April 16. (ROEL T. AMAZONA)