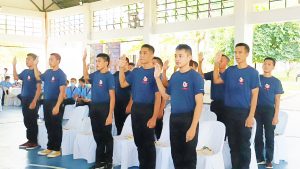 TACLOBAN CITY – At least 18 individuals are now undertaking a two-year auto mechanic training at the Technical Education Skills Development Authority (TESDA) – 8.
The trainees were chosen from the 620 applicants all over the region for the scholarship program offered by TESDA, Isuzu Motors Limited, and World Vision Philippines.
Among the new trainees is Megan Longasa, 20, from Barangay San Antonio, Basey, and Samar who stopped schooling after the first semester of her first year in college due to financial difficulties.
Longasa said that being chosen as one of the scholars for the program is a challenge for her being a woman as she has no prior knowledge on vehicles or on mechanical works.
"I will listen carefully during our lesson, and persevere to make sure that this opportunity that was given to me will not be wasted," she said, adding that graduating with the national competency will allow her to land jobs not only in the country but even abroad.
"To my fellow scholars, our dream is now ahead of us and thankfully enough, we are the luckiest one out of the many others who aim to be part of this scholarship. I hope that we continue to follow our dreams, always find our passion, and never let go," she said in her message of commitment during the welcome ceremony Wednesday (May 17).
For Remar Taneo, 22, who is from Ormoc City, the opportunity given to him to be part of the Batch 23 scholars of the auto mechanic training is a stepping stone for him to achieve his goal to become an engineer.
Taneo said that he took up an engineering course at the Eastern Visayas State University but due to some problem, he had to stop his schooling.
"I have a better chance of getting employed after my two years of training here at TESDA as an auto mechanic. The competency that they are giving to us is a big help in looking and landing for a job," Taneo said, adding that he would like to pursue his engineering course once he already enough savings.
The Isuzu-TESDA auto mechanic in partnership with the World Vision had been ongoing since 2008 and had produced more than 300 trainees mostly come from underprivileged families but deserving to be provided with needed education to gain employment.
Isuzu and World Vision had allocated P366 million for the operation of the project since their partnership started in 2012.
The training facility located inside the regional office of TESDA-8 is complete with training tools and equipment, a dormitory for boys and girls, a cafeteria, and a multi-purpose covered court.
Graduates of the training will undergo competency assessment and those who will pass will be certified by the TESDA and issued the national certificate or certificate of competency.
The Isuzu-TESDA auto mechanic scholars were welcome by the Isuzu Senior Executive Officer of administrative division Hirokazu Okubo, World Vision Philippines Executive Director Rommel Fuerte, TESDA Regional Director Gamaliel Vicente Jr., and TESDA Leyte Director Rolando Bade.
Vicente, in an interview, said that more than 91 percent of the graduates under the scholarship program are employed after the training both locally and abroad.
"Some of the graduates are hired by Isuzu and with their learning and skills being globally competitive, companies from the Philippines and abroad may immediately hire them," he said.
Aside from the 18 new scholars, the training center has currently 18 auto mechanic trainees for automotive servicing NC I, 18 for NC II, 18 for NC III, and 19 for NC IV.
(ROEL T. AMAZONA)