As EV continues to see uptrend of COVID- 19 cases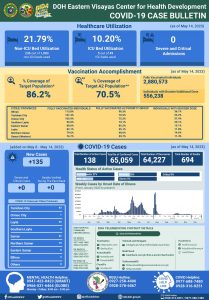 TACLOBAN CITY-Cases of coronavirus disease (COVID-19) in Eastern Visayas continue to see an uptick with health officials asking the public to again follow all the health protocols.
Based on the records from the Department of Health (DOH), the region has 135 active COVID-19 cases covering the May 8 to 14 monitoring.
The figure is higher compared to the May 1 to 7 report of the DOH which noted of 84 new COVID-19 cases.
The DOH noted that all six provinces of the region is seeing an increase of COVID-19 cases.
The province of Leyte logged the highest active cases with 88 cases, higher compared to the May 1 to 7 period which was only 59 cases.
The city of Tacloban in Leyte and the regional capital has 43 cases, an increase of 13 cases from the previous DOH monitoring.
Dr. Gloria Fabregas, assistant city health officer, said that while Tacloban City is seeing an increase of COVID-19 cases, she does not find it 'alarming.'
This is because, she said, majority of the active cases of the city are considered 'mild.'
"It is no longer of epidemic proportion,"she said on Tuesday.
She blamed the increase on the disregard of the public in following the health protocols.
Thus, she asked the public to again follow all the mandatory health protocols like the wearing of face mask.
The DOH in the region also made the same appeal.
Aside from wearing the face mask, it urged the public to immediately isolate oneself if sick; and get the vaccine and booster shots.
It said that the increase of COVID-19 cases in the region serves as a 'reminder' to the public to get anti-COVID-19 shots.
However, despite of the increasing COVID-19 cases of the region, the DOH 8 stressed that there is no severe and critical case admitted in the hospitals due to COVID-19.
It said that out of 49 intensive care unit (ICU) beds intended for patients with COVID-19, only 5 beds are occupied or 10.20%. Meanwhile, 21.79% of 1,083 non-ICU COVID-19 beds are currently being used.
Meantime, the province of Samar has 22 cases from the previous 18; Northern Samar, 10 from earlier cases of 3; Eastern Samar, eight from a single case; Southern Leyte, from two to four cases; and Biliran, from one case to three COVID-19 cases.
(JOEY A. GABIETA/ROBERT DEJON)