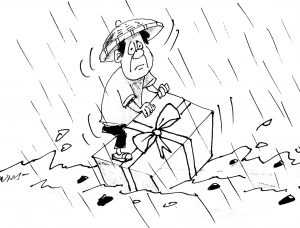 If in western countries, Christmas is partly characterized by snowy places, here in our region, in particular, it's likely going to be a wet Christmas due to the frequent rains that are being experienced in each province, city, and town.
To the many parties that have been held, then, it was wet and wild as participants jokingly described. If the venues happened to be outside, or open-air, then the same was indeed soaking wet. Some attendees came in wet clothes, shoes, etc., joining the parties in discomfort as exposure to downpours was inevitable on their way.
Good for those with owned vehicles, for their exposure to the occasional harsh weather happens only upon alighting and walking to the venue, which can be aided with umbrellas. Even so, their lower garments are still vulnerable to rain and floods. But for those who just commute, squeezing in and out of congested passenger vehicles is indeed uncomfortable and even risky at times, hence 'wild'.
Despite all this, parties must go on, for it is a party season. Such parties have become part and parcel of the Christmas celebration in our country. And eventually part of the Filipino culture, as well. The observance cannot push through, it seems, without these parties. So, rain or shine, the activity goes on, even if it means shelling out huge amounts and spending much for outfits and motifs.
As parties continue to take place in various places, participants may just hope and pray that the weather would favorably cooperate. Otherwise, it's most of the time going to be a wet and wild Christmas. At any rate, it's still a merry Christmas to one and all.