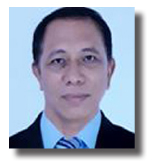 Now that December is fast approaching, the traditional Christmas parties held by offices, agencies, organizations, etc. will again take place, as plans for the same are being devised by organizers as early as now.
Various gimmicks are widely adopted. The more peculiar they are, the merrier the party becomes, depending on how creative the organizers are. Some groups would have their "something-something" series of gifts to give to their manito-manita up to the time of the "revelation" when the givers of gifts will finally be announced.
Right now, in fact, some groups have already started. Each week, they have an agreed gift to give, such as "something long", "something rough", "something round", and many more. Each one will be receiving gifts, in a series, without knowing who the giver is. It becomes a source of thrill and excitement, especially if the giver has a great sense of creativity in choosing the gifts. But if one is unlucky enough to have picked up, in the drawing of lots, someone with no sense of humor or creativity, then the gifts may prove boring.
Games and surprises await those who participate in Christmas parties. Aside from the food and drinks and gifts, there are also singing and dancing and fun games, and sometimes contests with lots of prizes. At some parties, there are also raffle draws, to the great thrill of the participants who all expect to get something. That's why, when there's a raffle draw, participants are compelled to stay in hopes of winning especially the major prizes.
For sure there are winners, and these winners end up happy as a result. Nothing beats the happiness that comes from possessing valuable items without spending a single centavo for them. In an attempt to make people happy, the idea of a raffle draw was conceived.
Perhaps the most exciting party to attend is that which prescribes special costumes, like costumes from the '50s, or '60s, or '70s. If it's the latter, then it must be the so-called 'wet look' for men's polo, bell-bottomed pants, and pomade-massaged hair, from the back pocket of their trousers, huge combs partly emerge. Just don't ask me how the ladies look in their '70s costumes because, to be honest, I do not know.
Good if the prescribed costumes are closer to our time. At least, scouting for said costumes is easier. But if the costume is that of ancient Greeks, Romans, or Egyptians…oh my, that would necessitate a bigger bonus from employers, otherwise, the participants could not afford such rare and costly outfits.
But I guess the simpler that party is, the better. There is much beauty in simplicity. It's not the costume, or the outfits, that matter most. It's the motive behind the observance and the object of celebration.
Since it's supposed to be a party celebrating the birth of mankind's savior, then our sole motive must be to celebrate nothing else but his birth. A clean t-shirt paired with long trousers will do. Let's not burden ourselves with costumes and gifts, just enjoy the occasion, thanking God for sending us His Son whom we must accept as our Lord and savior.