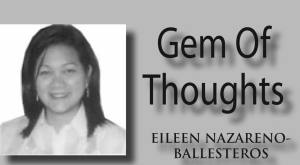 Millions of dollars to billions of pesos have been dumped into areas affected by the ravaging supertyphoon Yolanda November last year. A portion of these monetary assistance have been utilized to buy the goods for the relief and now rehabilitation operations, either through the national government, particularly the Social Welfare and the Public Works and Highways agencies, or through the various domestic and international humanitarian groups. Yet in spite of the gargantuan amount fused in, fund or otherwise, there persists the cry for insatiability among survivors of the killer cyclone, especially those in bunk houses and makeshift shanties in the "no-build zone" areas.
While the private-sector-led humanitarian groups have seized dishing out ready-to-eat and ready-to-wear goods and other necessary household wares few weeks ago as they shifted efforts to rebuilding and rehabilitation phase, the DSWD will have to continue providing consumables to the affected families. The victims could not be blamed as definitely, most of them have no stable source of income locally as yet. Sources from the social welfare agency advanced the information of a possible extension of the distribution of these relief goods from the deadline on March 31 to at least a more or two but on less frequent duration.
Beyond this superficial clamor stirred by the ephemeral need for sustenance is the demand for a more concrete aid to the survivors whose homes were totally destroyed and livelihood vanished as well in the deadly megastorm. They bellow for permanent homes now that they could put up their decent abodes anew with meagre pesos in their hands. No livelihood, no work, no concrete source of living, thus providing for their needs, much as reconstruction of their homes, is hard to come by. Situation is even more difficult among those in the no-build zone, and those who have lost their loved ones on whom they once rely on for survival.
Although, generally places hardly hit by the supertyphoon in November last year have vivified their resilience with the regrowth in their economy from day zero and little by little strived to build back the vibrancy of the locality to the pre-Yolanda condition, the demand for more lasting help, especially the government is pressing. Transparency and accountability that is annexed to the receipt of all the donations from across the globe supposedly for the Yolanda victims, in order for the latter to build back their lives, including legitimate and legal livelihood, soon should be given equal attention.
Lest the worst scenario happens, that is certain individuals amassing wealth at the expense of the Yolanda victims, every single peso, dollar or euro should be accounted for. Besides there is nothing to save the donations for unless they go into wastrel due to too much corruption both in the government and the humanitarian organizations.