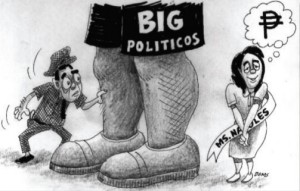 The controversial issue about the Priority Development Assistance Fund (PDAF) or pork barrel being a fertile source of graft and corruption being openly and guiltlessly committed apparently by top "honorable" officials in the law- making body and the executive department is manipulated it seems. This can be shown by "exposing" other personalities being part of the conspiracy to defraud government of millions of pesos. What is obviously telling is the attempt to erode the credibility of Justice Secretary Leila de Lima by identifying her husband as involved in lawyering for Janet Lim Napoles the alleged manipulator of the P10 billion PDAF scam.
Meanwhile the accused are free to breathe fresh air since the focus and limelight is now sporadically focused to others.
Historically the Philippine government's justice systems get its hands trembling with ineffectiveness when big names get involved in crimes.
The series of other revelations on PDAF scam is obviously an attempt to waylay the focus on Senators Jinggoy Estrada, Bong Revilla and Juan Ponce Enrile who by basing reports are the most "guilty" as revealed by a couple of credible whistle blowers.
However, the most insulting episode in Philippine history of course is the President Ferdinand/Imelda Marcos plunders that has already run for almost 3 decades now. Except for the successful confiscation of ill-gotten wealth from abroad yet the case is still on going. But the heirs to those plunder have already regained their political influence in the country they have mercilessly robbed with Bongbong now a senator of the republic, Imee, governor of Ilocos Norte and Imelda, "Leyte"s pride" but a congresswoman in Ilocos.
And hey! Ferdinand R. "Bongbong" Marcos, Jr may yet become President of this country?