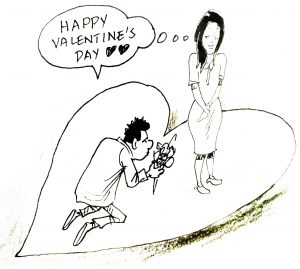 Today is the day when the world is celebrating the so-called Valentine's day—a day for lovers, married couples, the engaged, and many more. It's the day for dates in various dating places, the day when lovers renew their vows, the day when they take time to be with the objects of their love, and the men offer flowers as they exchange the words "I love you".
As lovers spend precious moments together, warnings come from various authorities. From the men in uniform, the police officers, in general, have this caution to give to those couples who are hard up to afford costly restaurants and hotels. Short of money, these couples just make do with darker portions of parks and plazas to spend intimate moments together. But it is in risky places like these that lovers invite disasters to themselves. Some girl partners have been raped here, and the boyfriends slain by rapists. They should then avoid going to these places.
The Population Commission people, moreover, have this warning to give, especially to young lovers to never engage in unsafe sex, or else they might end up with unwanted pregnancies. As such, if they cannot avoid physical intimacy, they have to make sure they are using protection against teenage pregnancy. They should tame themselves from too much aggressiveness since they are not yet stable in many areas of their lives, particularly when it comes to the financial aspect.
From the religious leaders, this warning comes that, if the couples are not yet legally married, they should refrain from physical intimacy, or else they would sin against God and their church. Dating is allowed so long as it is done in public places where the couples could not be tempted to commit adultery and fornication, or whatever case there might be. This is the moral aspect. But the greatest warnings that young couples should heed are those that come from their parents. It's their parents who know better what is best for them. So, lovers, beware of these things.
Happy Valentine's day!