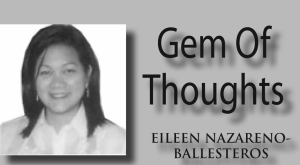 Since childhood we are pounded with the warning, "A winner never quits, a quitter never wins." Apparently, it is the rule of thumb but conversely this dictum admits some ironies. Like the rules and some provisions of law in Philippine legal system, the maxim is with exception that is indulging in vices and unhealthy lifestyle, and engaging in illegal or immoral acts.
Take for instance the widely popular habit of cigarette smoking, which although discouraged by health authorities is ceaselessly loved, seemingly hardest to break. In spite of the caveats that the Dept. of Health publicize through the quad-media and IEC sessions, smokers continue to spread the dangerous second-hand all over town. Worse, even without checking on the stats, smokers are getting younger down the age of two, as in the case of Chinese Tong Liangliang and Indonesian Ardi Rizal in separate 2009 report.
The 2009 Global Adult Tobacco Survey (GATS) results disclosed that twenty-eight percent or 17.3 million Filipino adults age 15 years and older are current tobacco smokers. It added, "Almost half (48 percent or 14.6 million) of adult males and 9 percent (2.8 million) of adult females are current smokers. Moreover, 23 percent of Filipino adults are daily tobacco smokers: 38 percent for males and 7 percent for females.
Further, the result stated, "Filipinos mainly smoke cigarettes, which include manufactured cigarettes and hand-rolled cigarettes. Cigarettes are smoked by 47 percent of men and by 9 percent of women. On the average, male daily smokers consume 11 cigarettes per day while female daily smokers consume 7 cigarettes per day."
DOH identifies three most common components of cigarettes and cigarette smoke which are harmful to human body. These are carbon monoxide, which impairs the capacity of the blood to supply adequate amounts of oxygen to the vital organs of the body; nicotine that creates dependence on tobacco and exerts its effects on the heart by raising heart pressure and heart rate; and tar that coats everything it touches especially the body's air passages.
Besides cancer of the lung, smoking causes cardiovascular disease, chronic obstructive lung disease (emphysema), chronic bronchitis and cancer of the other body organs. Pregnant women who smoke run the risk of depriving the baby of oxygen, premature detachment of the placenta and premature rupture of membrane resulting in spontaneous abortion.
Smoking is not just among the habits that one should quit doing to be called winner in life and regain health and get the chance for longer life. There are many other habits than one should quit like poor health lifestyle and the worst of all, procrastination. Quit now to be sure winner in the coming days.