Pre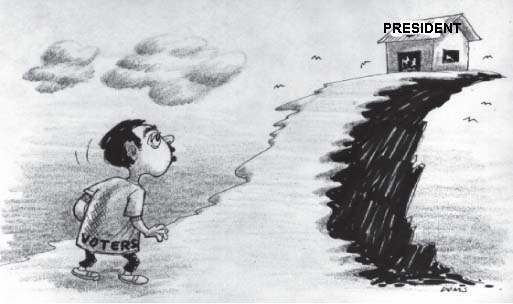 sident Benigno Simeon Cojuangco Aquino III was popularly elected President in 2010 and by constitutional mandate, will end his term in 2016. It is a sacred covenant with the people of Aquino and his party mates. However,two years before the end of Aquiinos' term, the political thunder manifested by "the people" reverberates all over the nooks and crannies of the archipelago for the President to submit himself to his 'bosses" (the Filipino people) to run for re-election. This has been forwarded for their response, and the reaction appears quite inspiring to the people behind it and the nation as well, simply because we have a "good" president.
This should not happen, though. This is a democratic country and the stability of a democratic nation lies on the credibility of laws and the Constitution we follow to uphold, defend and obey. Just because we have in our midst an honest President and yes indeed a good one should not by reason enough to amend the Constitution. Should this be done it could pave the way to destabilize the nation every time a "good president" preside over the affairs of the nation. If Aquino is allowed to run again and win for another six years, this is a big slap to our people who will admit that we are a nation of jerks, good for nothing Filipinos who can not identify and elect another leader who is similar to Pnoy or may yet perform better.
 The late dictator Ferdinand Marcos "monkeyed" with the 1936 Constitution and in the process provided him an unhampered power from 1965-1986 –as dictator in a solid but painful 21 years experienced by our people. What happened? We know the answer.
Respect the Constitution. Let good Presidents come and go and be just role models to those who may come after them.