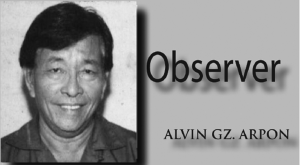 At the rate this Priority Development Assistance Fund (PDAF) or pork barrel) the popular P10 Billion scam progresses (or is it retrogressing?) could be a history repeating itself like that of President Ferdinand Edralin Marcos – on his over a billion plunder case during his 20-year presidency.  Almost after over 2 decades after he and the members of his family and certified cronies fled to other lands for fear of being lynched by angry Filipinos during the EDSA People Power Revolution, the case is still being heard and worse, the clan beneficiaries are back in our political realm, possibly laughing their hearts out at the inutility of our judicial system that are still being worked out, through their successfully winning elections.
-oOo-
There are a lot of a group of well-heeled plunder manipulators in our midst who may be involved in the P10 Billion PDAF scam and have benefited from it, who now try to muddle this nauseating issue. Their objective probably is to create a polluted and chaotic situation in order that those primarily involved or who at this point in time are really the guiltiest will be relieved of their being the only focus in the here and now relative to this scam. The emerging lists being paraded by many personalities – known to Filipinos, are creating a serious boggling of their mind situation.
-oOo-
Our people who were primarily robbed of their taxes paid in government that have become a viable source in this large-scale thievery by supposedly credible public servants (legislators/ and senators in particular) would like to see that this P'noy government itself should handle the investigation. This government is credible and at best has all the facilities, mechanisms, power and initiatives to come up with credible findings about this shameless scam. It has the Commission on Audit which determines how government finances are spent; we have the intelligence community which is capable of unearthing hidden wealth by the police and military establishment to include even hidden agenda of corrupt government officials in our civilian agencies. This intelligence group which formerly belongs to police and military establishments has also been employed now in civilian government agencies.
-oOo-
In media interacting forum in broadcast channels we were able to monitor a discussion. They said that to investigate the Senators through the Blue Ribbon Committee of the Senate will arrive at a kind of doubtful findings. The committee to hear their peers about the scam will crate a problem. So there is a suggestion that government should create a fact-finding commission to hear these cases. The problem is the fact-finding commissions will still file the cases formally in court, after "years" of hearings. We suggest therefore that this issue should be handled solely by the Department of Justice. The DOJ is still a credible agency in the P'noy administration.
Come to think of it. Where is the Presidential Commission on Good Government?