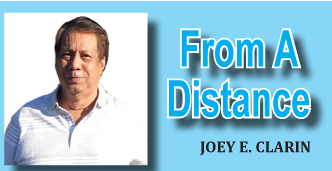 The allegations of a new racket involving payouts to immigration officers at the NAIA airport by syndicates to facilitate the entry of foreigners to work in POGO's only showed that there is corruption in the Bureau of Immigration (BI). Immigration personnel are facilitating entry of Chinese nationals most of whom are believed to have been recruited to work at on-line gambling firms.
Recently, 5 officials of the BI were relieved from their posts after an investigation on the so called "pastillas scheme" where Immigration officers are allegedly accepting bribes from Chinese nationals.
What is obvious is the anomalous entry of foreign visitors. The illegal entrants must be caught together with whoever facilitated the entry and punishment must be imposed. An on-going Senate probe has unearthed an alleged racket involving the issuance of visas to Chinese citizens. The real reason for their entry is not tourism, but employment in the POGO industry. It is alleged that corrupt immigration personnel charge P5,000 for a special work permit (SWP) for a POGO employee.
In the Senate inquiry, an average of P10,000 is paid by each Chinese worker for easy entry. The payment is made allegedly to BI personnel. The payoffs were handed over apparently to BI personnel. The payoffs were handed over apparently to BI personnel and rolled up "pastillas" style at the NAIA airport.
Allegations against these Immigration personnel who allegedly received bribes to facilitate the entry of POGO workers must be proven. The management must look at the bigger picture, all that might be connected to this alleged scheme.
The BI Commissioner must immediately investigate to determine and identify the persons involved in the scheme and file charges against them. The National Bureau of Immigration (NBI) should look into the alleged malpractice of immigration officials at the airports. Complaints should be filed against immigration personnel involved in this scheme.