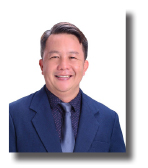 This time after the almost daily rains, I heard that sound again. A bird that sound as if it was singing Happy Birthday Song in crisp flutelike sound, a manifestation of God's love. This piece I wrote in 2021 is a manifestation of God's love and today let me thank Thee…
In that fateful early morning Typhoon Odette ends its rather rude crumpling and blowing, I carried my sleeping bag and walked into the car. From my office here in Leyte Normal University as I trod that red brick road close to the trees near the IGP Canteen one peculiar thing happened, I vividly heard the happy singing of a yellow striped bird which to my astonishment sounds like the first few notes of that Happy Birthday song in a surprising monosyllabic staccato. I swear it was that sound and I felt a small chuckle inside. I said to myself the birds surely are happy that the winds of Odette did not level their homes and they are witnessing a new start. As the Sun hits my checks, I felt the task ahead and the damage to my friends in Cebu, Bohol, Southern Leyte and even Surigao, would be a no chirping matter, at that instant my emotions recoiled from the happy observance of a grateful bird to the sad denouement after yet another brush with nature's fury.
So how does birds, trees ,men and Sun connects? It's a question that cannot be answered as perfectly as the Storm can. Its wrath and anger unleashed, its winds packing a wallop of destruction and death. The storm can cancel the Sun, mow down trees, drive away birds and kill unlucky men who had been hit and happen to be in its track. Needless to say, the connection is seen in the detail of the storm.
The birds knew when a storm is coming. Research has shown that birds can hear infrasound (ref) and are sensitive to barometric pressure (ref and ref), so they know when a storm is on its way — especially when the storm is as large and as powerful as a hurricane. During storms birds hide in dense trees and bushes.
They may be able to find some calmer areas on the leeward side of a woods, protected from some of the winds. … Birds may hide there as well, very low to the ground.(google.com).
Anyway the thing is some birds survives the storm by hiding, much like humans. In all its grand ego, humans fled and hides from the storm. It recognizes that fact, man is no match to the power and sheer force of weather systems, at times however, when Man boldly challenges the storm, it can be its demise.
As the trees near that area in our university rustles its best movement and that corny bird clad in yellow and green with black stripes sings its version of gratitude, I remember that we are lucky to be spared, for now. As I gaze at the rays of the morning sun adjusting its light on us, I mumbled a prayer of thanks as I looked down, I prayed more for those who was struck with more fury, those who have seen that dreaded eye of the storm, I felt so sad. And that bird tweeted its own version of gratitude hymn and I did not know whether to feel sad or glad.