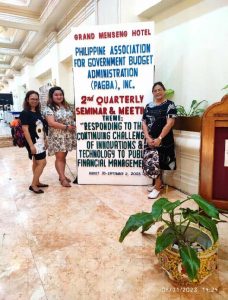 NSSDEO, Brgy. Burabud, Laoang, N. Samar– The Philippine Association for Government Budget Administration (PAGBA), Inc., led by Zenaida B. Chang, president and former assistant commissioner of the Bureau of Internal Revenue conducted its 2nd quarterly seminar and meeting held at the Grand Men Seng Hotel, Davao City, last August 30, 2023 to September 2, 2023, with the theme: "Responding to the Continuing Challenges of Innovations & Technology to Public Financial Management," where financial managers outlined a task on how to respond the structural reforms for digitalization and service responsiveness that require continuing information and professional development.
The objective for this year's quarterly meeting is to sustain the provision and facilitation of capacity-building requirements relative to sound public financial management and good governance, including worthwhile information on work-life balance.
Hence, distinguished experts and resource speakers were invited to discuss the following topics: Digital Innovation and Transformation, Budget Execution and Accountability Reports, BEDS and BARs, Roles of Budget Officers, Accountants and Head of Agencies; Records Management and Disposal; Government Property Disposal and Accountability; Omnibus Rules on Appointments & Other Human Resource Actions (ORA-OHRA); GSIS Premiums, Benefits and Retirement Laws; Confidential, Intelligence Funds Difference, Inclusions and Exclusions; Work, Life Balance, Stress and Anger Management in the Work Place and Home; Tax Updates; Corporate Operating Budget (COB) Preparation, Process and Approval; and Procurement Process, Roles of BAC and RA 9184 Updates.
This meeting was attended by the country's budget and financial officers, accountants, procurement officers, administrative officers, legal officers, personnel officers, cashiers, treasurers, comptrollers, planning and development officers, fiscal and school administrators, and officials and employees from the government and private sectors.
Furthermore, the quarterly seminar was attended by DPWH-NSSDEO personnel, Hazzel D. Balberan, Accountant II and Ma. Lourdes L. Sebanes, Administrative Officer IV (Budget Officer II) of Finance Section, as well as, Glea C. Gloton, Administrative Aide VI, staff of the Procurement Unit.(KRISTIN KALAYAAN R. FLORES, PIO ALTERNATE)