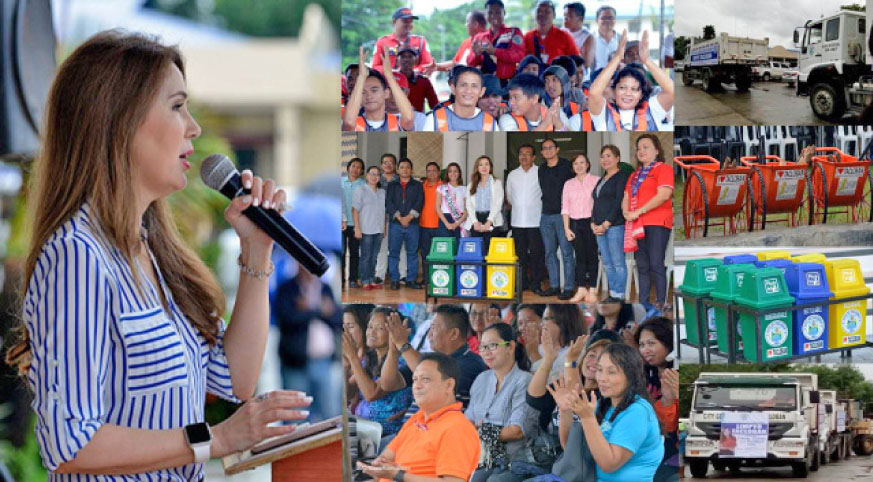 Thru Limpyo Tacloban program
TACLOBAN CITY- To meet the waste requirements of the only highly urbanized city in Eastern Visayas, Tacloban City opted to adapt a cost effective waste management system. This was disclosed by City Mayor Cristina Gonzales Romualdez during the relaunching of the "Limpyo Tacloban" program. Recognizing the severity of garbage problem in the city, it adapted a waste management system through waste segregation with emphasis on the importance of minimizing waste through recycling, resource recovery, reuse and composting biodegradable waste materials. The relaunching of Limpyo Tacloban Program was held on July 29, 2016 at the City Hall grounds with officials from the Department of Environment and Natural Resources (DENR-RO8) which provided the colored bins, in attendance.
About 60 street sweepers armed with garbage carts, stick brooms and colored coded plastic bins as well as garbage trucks and bulldozers were in display during the said activity attended by officials and personnel from all department and offices of the City Hall. The relaunching of the Limpyo Tacloban Program has the city government as its pilot in the implementation of the clean and green program. As the model for cleanliness and complying strictly the solid waste management act, Limpyo Tacloban aims to clean its vicinity first before going out to the barangays. "We first start cleaning our work place, its backyard and surroundings. We have to clean first our offices and surroundings to show the entire city of our objective," Mayor Romualdez said in an interview. "Our barangays will follow after showing them of our good ways. Limpyo Tacloban will start from our own house, every department will be provided with the waste bins where they will diligently throw waste following the waste segregation ways," the city mayor added. Constant information awareness campaign, on the other hand, will be imposed by barangay leaders to educate their constituents the proper way and importance of waste segregation, Mayor Romualdez said.
"There is money in basura," she said. Biodegradable wastes can be used as organic fertilizers, reusable materials can be converted to something new and useful and we can make money out of it. While non-biodegradable can be recycled and used in the production of hollow blocks, bricks, other infra materials, decorative pieces, monobloc chairs and tables among others. (GAY GASPAY/TIM CANES, TISAT-KANHURAW MEDIA TEAM)