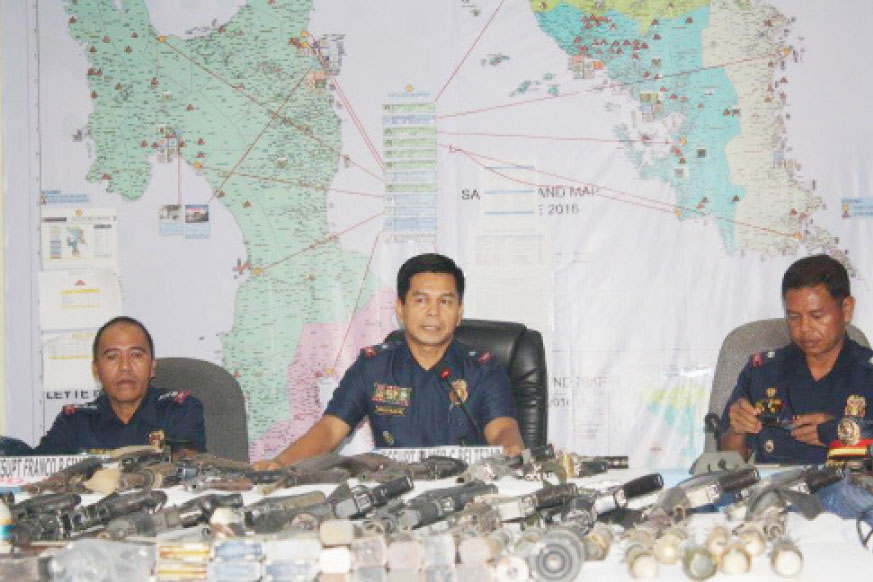 No drug-related rap yet
By: Sarwell Q. Meniano
PALO, Leyte- The string of criminal cases awaits Albuera Mayor Rolando Espinosa Sr. who is being linked in the illegal drug trade. However, the planned cases against the neophyte mayor has something to do with the series of murder cases that happened in his town during the May 9 elections. Police Regional Director Chief Supt. Elmer Beltejar said they have been gathering evidences that link the mayor to the previous killings perpetrated by the Espinosa group. "We are building a tight case against them. There are many willing witnesses coming out providing vital information unlike in the past where people are scared to testify," Beltejar said during a press conference on Thursday (August 4) at the police regional headquarters, this town.
Beltejar explained that by mere association of Espinosa to his son would not be sufficient, at this time, for them to file drug-related cases against the town mayor. "If we will just file a case against the mayor by linking him to Kerwin, for sure this will just be dismissed (by the courts)," he said. "But what is certain was he benefited from this illegal drug activity of his son," the police regional director added. The band of private armed group is allegedly led by the mayor and his son, Rolando, Jr. known as Kerwin, the region's number drug lord. At least six of them were killed during an encounter with the police early Wednesday (August 3) morning. Killed were identified as Ricky Gravillo of Albuera, Teresito Laro Paderannga of Zamboanga del Sur, Richard Mato of Zamboanga del Sur, alias Tatay from Mindanao, alias Arman from Mindanao, and one unidentified bodyguard.
"They were hired as liquidation squad to execute the murder of enemies of Espinosa, secure the father during the campaign," Beltejar added. The armed group is reportedly behind the killings of the town's former police chief, a newly-elected town councilor and a police asset. These killings took place between May to July this year.
During the press conference, the police regional office presented to the media some 21 assorted long firearms, 16 short firearms, hand grenade, and ammunitions recovered after the fire fight, buy-bust operation and some were turned over by alleged members of the Espinosa group who surrendered to authorities. The police recovered these firearms between July 28 until Wednesday midnight where the 30-minute gun battle between the local police and the armed group of Espinosa took place.
Espinosa, according to Beltejar, is now included in the latest drug watch list for allegedly coddling his drug lord son. Chief Insp. Jovie Espenido, town police chief, said Albuera is more peaceful now following the deaths of some members of the notorious Espinosa group. "Albuera is a lot safer now that the mayor and his son are gone and after the encounter. In fact, three hours after the fire fight, some bodyguards came out and turned over several firearms," said Espenido, who was installed as town police chief on July 18. If it's okay for PNP Chief Director General Ronald De la Rosa for the mayor to return and function as chief executive, for Espenido, it would be better for the father to quit his post. "He's not fit to lead a local government unit. Everybody knows that he's engaged in illegal drugs and leads a liquidation squad," Espenido said.