TACLOBAN CITY – Surfers from Siargao, La Union, and Sorsogon dominated the week-long surfing competition held in Borongan City.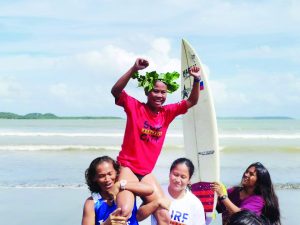 The competition, the 3rd leg of the national surfing competition held at the Baybay Boulevard of the said city was participated by about 300 surfers.
Marven Abat of La Union claimed the Men's Open Longboard tilt in this year's finals competition with an 11.05 finish against fellow La Union surfer Benito Nerida.
Jevy Mae "Aping" Agudo of Siargao was hailed as the champion of the women's longboard against fellow Philippine Surfing national team member Daily Valdez.
This is Agudo's championship victory in one month after clinching the Pilipinas Surfing Women's Longboard competition in Baler, Aurora last November 4.
John Mark "Marama" Toking of Siargao dominated the Open Shortboard finals in the battle between the north and south as he defeated Niel Sanchez of Baler.
Vea Estrellado of Sorsogon set a back-to-back win after securing top spot for the women shortboard category.
Estrellado was last year's champion at Surf in the City Women's Shortboard finals.
Toby Espejon of Siargao was victorious at the junior boys' finals after he won a tiebreak. His fellow Siargao surfer, Maria Graciela Migullas, also topped the junior girls.
Top winners of the surfing competition won the same prize amount worth P80,000 each, making the Surf in the City the first to level give equal cash prize in both men and women surfers.
The 2022 Surf in the City is the third consecutive year of Borongan in hosting the Philippine Surfing Championship.
Borongan is positioning itself as the next major tourism hub of Eastern Visayas in recent years.
Its geography is unique as it is the only city in the Philippines where the beach and surf spots are right in the city center.
Mayor Jose Ivan Dayan Agda plans to build on this natural resource to attract more tourists and develop local talent.
"We have made significant investments in improving the quality of our beach area. We've trained our local surfers to be certified surf instructors so they are ready to teach tourists interested in surfing. Our dream is to raise an international surf champion from Borongan," he said.
(ROEL T. AMAZONA)